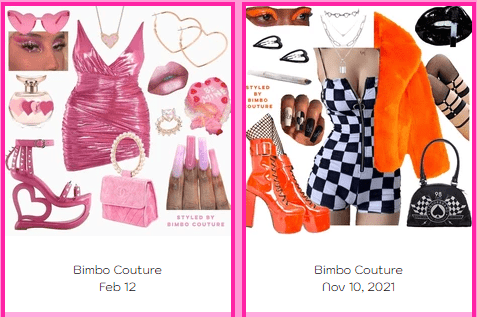 Originally and primarily referred to as a slang, the word 'Bimbo' has evolved into a form of a compliment and a new fashion movement called 'Bimbo Fashion'. Though controversial in nature, now Bimbo Fashion is being celebrated by the Tiktokers, Instagramers and all the free fashion thinkers across the world. Bimbo Fashion is now a paradigm shift from what it was a derogatory form of word to a new, euphonic and complimentary word for women's fashion-now widely known as Bimbo Clothing. Today we will learn the meaning of bimbo, how the Bimbo Fashion movement started, how it is being propelled by Bimbo Tiktok, Instagram, Bimbo reddit, and other social media, bimbo clothing brands and everything you need to learn about Bimbo Fashion!
What was actually meant by Bimbo before Bimbo Fashion emerged? What makes a woman a bimbo?
What is the meaning of bimbo? It can be a question that first comes to your mind. Bimbo meaning of Bimbo definition is actually quite the opposite of Bimbo Fashion. Bimbo is originally a slang and a derogatory word for women who are beautiful but not intelligent. This is what has been changed into Bimbo Fashion, a new identity that rather expresses compliment for women. Its another name is 'Bim·bette' [bim-bet].
The history of Bimbo Fashion, how this movement started?
According to Vogue, the new Bimbo Fashion movement is initiated in 2017 by an adult star, Alicia Amira, who reformed it as a way for women to take ownership of their sexuality after decades of use as a trope that dismissed them as vacuous and "for the male gaze". After her new revolution, the word has gained its fuel for the past couple of years to a more positive expression of women's body and beauty.
Bimbo Fashion is like "The subtle art of not giving a fu*k"!
The Bimbo 2.0 or the Bimbo Fashion movement isn't just Valley girl vibes dress-up. It is the subtle art of not giving a fu*k which solidifies by the TikTok captions-"no one can out bimbo me I'm literally brain dead" which cloaks a serious cultural shift from the misogyny of a decade. Examples can be movies like Legally Blonde and The House Bunny which poked fun of bimbo women which intensified through an infamous New York Post paparazzi shot of Paris Hilton, Britney Spears and Lindsay Lohan under the headline "Bimbo Summit".
Who is leading the BimboTok in Bimbo Fashion?
Chrissy Chlapecka, a 21 year old Chicago-based barista with more than 4,57,000 followers, is one of the main leaders of BimboTok where people engage in a collective performance of hyperfemininity. She is leading the charge to transform the bimbo into an all-inclusive, gender-neutral leftist icon.
What is a bimbo style?
As of the modern world, Bimbo style is associated with the blonde women having curvaceous figures, heavy makeup, and revealing clothing; often they are seen to choose pinkish or orrange shade in their attire.
How does Bimbo Attire look?
Bimbo attire is like ridiculously short dresses with no backs, tops with plunging necklines, skirts that are an inch longer than indecent.
Where to buy Bimbo clothes?
Y2K Bimbo Aesthetics
Y2K Bimbo dresses are back again due to the recent Bimbo movements. For the Bimbo Clothing movement, they are available in AliExpress, Shoplook, Bimbo Clothing are available in Etsy, Amazon, Redbubble, etc. online shopping platforms.
If you want to balance between quality and affordability, there are some other places from where you can buy Bimbo clothes:
www.Yoins.com
www.FashionNova.com
www.Yandy.com
www.Bebe.com
OhPolly, Candy Shop Lingerie, PrettyLittleThing, and DollsKill also sell Bimbo clothes.
The Bimbo leader-Chrissy Chlapegga also has a store for her merchs.
Places to learn about Bimbo Clothing and Bimbo Fashion Trends
Bimbo-couture is a blog that publishes all about bimbo clothing, bimbo clothing trends, bimbo lifestyle advice, health and fitness, career and lifestyle, bimbofication progress, forum, etc.
Moreover, BiboTok leader-Chrissy Chlapecka's official TikToks are a great source to follow the Bimbo trends.
Bimbofashion is another blog which focuses on the bimbo lifestyle and trends. It also sells bimbo dresses.
Bimbofication is a reddit community that shares everything a bimbo needs.
Pinterest is also a great place to learn about Bimbo Fashion. Bimbo Fashion-Pinterest, Bimbo Aesthetic-Pinterest, Bimbo Looks-Pinterest, Bimbo y2k aesthetic pinterest are some good keywords to search for.
Conclusion
Though the Bimbo Fashion movement or Bimbo Clothing movement is controversial, some critics say that they contradict with their own statements (they are anticapitalists but they use expensive makeups and dresses), the Bimbo Fashion movement is worth studying. This is a movement that has gained its ground over a lot of women in a short period of time and spread over a lot of areas which is worth investigating. This fashion movement can be a great study material for the fashion trend chasers and trend analysts.
Disclaimer: Fashionnovation doesn't stand with or against the Bimbo Fashion movement. The sole purpose of this article is to let you know about a new and unusual fashion trend that spawn in the fashion world which is worth studying.
Related articles:
Fashion Nova: How a Fast Fashion Brand is Using Psychology to Sell Like Crazy