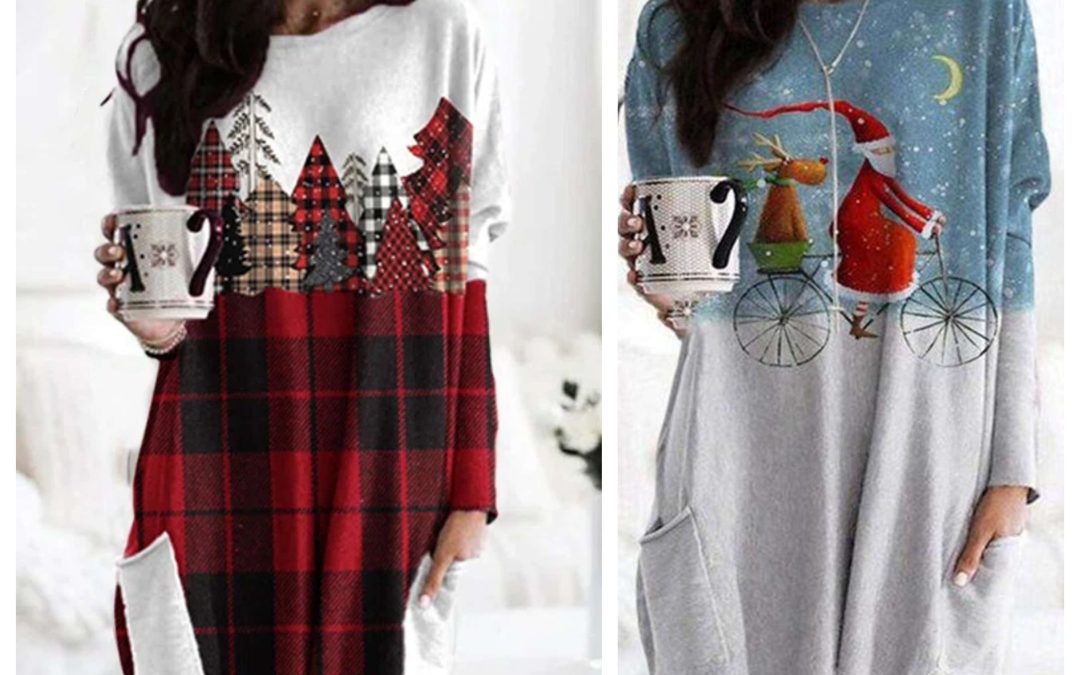 In the month of December, when you are sick and tired of your daily routine works or trapped in your home, when you desperately seek for an escape, Christmas comes to the rescue. Christmas offers you a great portal to escape from your boredom and indulge yourself in the trendy fashions and express your inner feelings. To help you done in the best possible outlook and make your decision steps smooth, we have hand picked 3 of the most trendy outfits for this christmas 2022. Let's see what's waiting to join the happy dresses in your closet.
If you are a fan of t-shirts, then no one is going to be able to stop you from wearing it. You will definitely find a way to done yourself with a t-shirt wherever you are, whatever the time is. This Loose Plaid Square Neck T-Shirt is as such.
The plaid reminds the vibe of the Christmas and the square neck gives the vibe of your personality. This simple yet beautiful looking shirts asymmetric aesthetical buttons makes it unique to the beholders. If you want to be unique, the urge to express yourself runs through your veins, this dress is definitely for you.
If you are a shirt lover, then good news! Another casual shirt for you! Cherry on top, this shirt features our famous Santa and his deer. How does Christmas be Christmas without Santa, right?
The beautiful and soothing blue and grey colour of the dress mesmerises the beholders and makes a calm feeling. Such dresses must be exceptionally efficient for handling any angry client or your angry boss. The comfort of the dress calms you down too. So, if you are a person who wants to find comfort and sooth your surroundings, this dress is obviously for you!
Another beautiful, full sleeve dress, we can suggest you is this one! This is a proper fusion of the plaid shirt and the crew neck shirt we showed you earlier. This has the Christmas trees printed on the chest and the overall used colours are amazing to express the merriness of Merry Christmas! Any Christmas lover will want to bring it into her collection and I am sure you are the one!
Bonus! Bonus! Let's give you a suggestion out of the shirts too!
If you are a fan of asymmetric dresses, this type of dress will suit you the most. Such cross neck sweaters are excellent for your casual wear, going here and there, meeting with your friends and taking a cup of tea or coffee. The comfort of the dress will please you because this is not only meant for aesthetic purposes but also to hundred percent ensure functional ones. This will keep you warm and at the same time chic! The beautiful red colour of the dress is perfect for winter and aesthetically pleasing to the eyes. The design on the bottom hem and the neck are top class which will definitely attract the eyes of the beholders. And who knows, maybe this dress will be your matter of discussion with your friends for the next few hours!
Now you have our top picks, you must be thinking of these fantastic pieces and where to find them! Are they available all around the world? Yes, yes! Get these amazing pieces from Noracora (they ship worldwide!) and meet your Christmas demands, make the Santa look at you with awe! Wishing you an advanced Merry Christmas!
You can read another of our article written on jeans styling, there we hand picked some of the jeans from a trending brand!
You can also read our article on Black and Gold Sneakers You Should Buy Today!
You can also read another of our article where we have made a wish list of top 5 picks from RIHOAS.
To know the best gifts to give your mom, you can check this article here!
To read about "Trendiest Women's Winter Fashion Pieces You Can Sew", you can go here!
This is a sponsored post with Noracora. All opinions are 100% of our own.