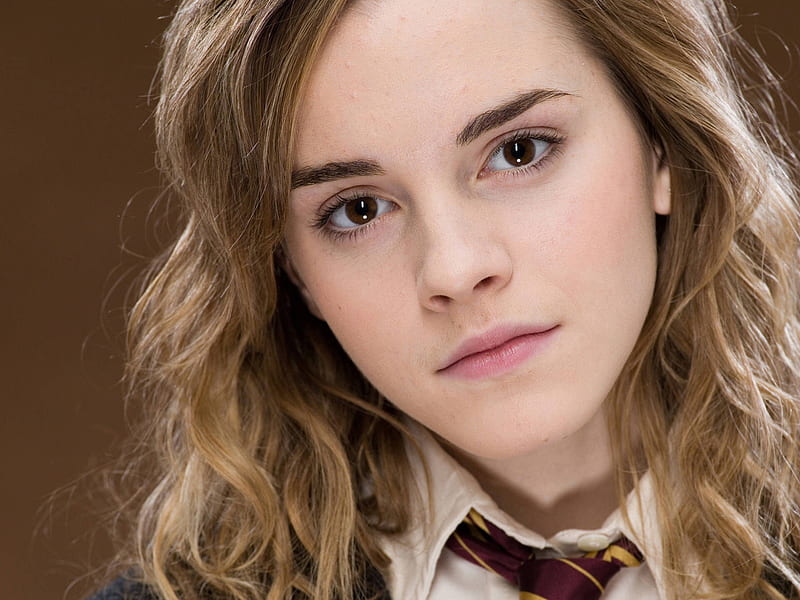 When it comes to iconic characters in literature, Hermione Granger from the Harry Potter series is a name that immediately springs to mind. Her character is known for her intelligence, bravery, and loyalty, but she also has a style that's all her own. In this article, we'll delve into Hermione's style, exploring how it reflects her character and how you can incorporate elements of her fashion sense into your own wardrobe.
Hermione's Classic Wardrobe
Hermione's style is the epitome of classic and timeless. She often opts for clothing that is both practical and elegant. Throughout the series, she can be seen wearing a variety of outfits that reflect her personality.
School Uniform: Hermione's school uniform at Hogwarts consists of a crisp white shirt, a pleated skirt, and a Gryffindor tie. It's a look that exudes a sense of order and discipline, perfectly in line with her studious nature. You can recreate this look with a well-fitted white blouse, a pleated skirt, and a touch of school spirit with your house colors.
Yule Ball Gown: One of the most memorable fashion moments in the series is Hermione's stunning Yule Ball gown. The periwinkle blue dress with elegant ruffles and embroidery is a showstopper. While you might not have magical seamstresses at your disposal, you can find a similar elegant evening gown for special occasions.
Hermione's Accessories
Hermione's style isn't just about her clothing; it's also in the details. She's often seen with accessories that reflect her intelligence and love for learning.
Time Turner: Hermione's Time Turner necklace is a unique accessory that showcases her dedication to her studies. While we can't promise time-travel, you can find a replica Time Turner necklace to add a touch of magic to your style.
Books: Hermione is never too far from a book, and she often carries a small bag with her essentials. Consider investing in a leather satchel or a stylish book-inspired handbag for a touch of Hermione's bookish charm.
Hermione's Classic Hairstyles
Hermione's hair is as iconic as her fashion sense. She often opts for classic and neat hairstyles that complement her no-nonsense personality. Here are a couple of her signature looks:
The Timeless Bun: Hermione frequently wears her hair in a neat bun, especially when she's engrossed in her studies. To achieve this look, gather your hair into a high ponytail and twist it into a bun, securing it with hairpins. This style is not only chic but also practical.
Waves and Curls: For a softer and more feminine appearance, Hermione occasionally lets her hair down in loose waves or curls. Achieve this look with a curling iron or hot rollers, and don't forget to use a bit of hairspray to maintain the bounce.
Hermione's Natural Makeup
Hermione's makeup is subtle and natural, reflecting her down-to-earth and no-fuss approach to beauty. Here are some makeup tips to emulate her look:
Foundation: Hermione's makeup starts with a flawless base. Use a lightweight foundation or BB cream to even out your skin tone without looking overly made up.
Subtle Eye Makeup: Hermione opts for earthy tones and soft brown eyeshadow. Use neutral shades to create a natural and understated eye look.
Eyeliner: Keep your eyeliner thin and close to the lash line. Hermione doesn't go for dramatic cat eyes, so a simple line will do.
Mascara: A coat or two of mascara to enhance your lashes is all you need. Hermione's look is all about enhancing natural beauty.
Lips: Go for a natural lip color or a soft pink shade. Hermione's lips always appear soft and inviting.
Hermione's Intellectual Influence
Hermione's character is synonymous with her intelligence and passion for reading. These traits are not only evident in her actions but also in her style. Here's how you can incorporate these qualities into your own wardrobe:
Statement T-Shirts: Hermione would undoubtedly approve of statement tees with literary quotes or book-related designs. Show off your love for reading with a graphic tee that reflects your favorite author or book.
Classic Cardigans: Cardigans are a staple in Hermione's wardrobe. She often layers them over her school uniform or casual outfits. Invest in a few classic cardigans in neutral colors to add a touch of Hermione's intellectual charm to your style.
Hermione's Love for Practicality
Hermione's practical nature is also evident in her fashion choices. She values comfort and versatility in her clothing. Here's how you can embrace this aspect of her style:
Comfortable Footwear: Hermione rarely wears heels or uncomfortable shoes. She prefers comfortable footwear, like simple flats or practical boots. Invest in quality footwear that you can walk in without any hassle.
Crossbody Bags: A crossbody bag is not only practical, but it also keeps your hands free for holding books or casting spells (if you're a witch or wizard). Opt for a crossbody bag in a neutral color for a Hermione-inspired accessory.
Hermione's School Days
During her early years at Hogwarts, Hermione's style is characterized by her adherence to the school uniform. However, as she becomes more comfortable in her own skin and gains confidence in her abilities, her fashion choices begin to evolve. Here's a look at her style transformation:
Casual Wear: As Hermione spends more time outside of school and in the wizarding world, she starts embracing casual wear. Jeans, sweaters, and t-shirts become part of her wardrobe. You can emulate this phase by incorporating comfortable and casual clothing into your style.
Practicality: Hermione's practical nature remains consistent as she matures. She often chooses clothing that allows her to move freely and be prepared for any magical challenge. Think about adding utility jackets or versatile outerwear to your collection for that practical Hermione touch.
Elegance and Confidence
As Hermione becomes a young adult, her style takes on an even more elegant and confident flair:
Sophisticated Dresses: When she attends events like the Quidditch World Cup, Hermione is seen wearing sophisticated and fashionable dresses that reflect her growing confidence and style maturity. Opt for similar elegant dresses for your special occasions.
Accessorizing: Hermione's choice of accessories becomes more refined. You can see her wearing delicate necklaces, elegant earrings, and stylish hairpins. Pay attention to how you accessorize your outfits to achieve a similar level of sophistication.
Summing Up Hermione's Style
Hermione Granger's style is a unique blend of intelligence, elegance, and practicality. Whether she's in her classic school uniform, casual wear, or sophisticated dresses, there are key elements that define her fashion choices. Here's a recap of those elements:
Timeless Elegance: Hermione's style is characterized by classic, timeless pieces that exude sophistication. Her wardrobe includes well-fitted blouses, pleated skirts, elegant dresses, and refined accessories.
Intellectual Influence: Hermione's love for books and her intelligence shine through her choice of statement tees and classic cardigans. These pieces reflect her passion for learning and reading.
Practicality: Comfort and versatility are essential for Hermione. She often opts for comfortable footwear, crossbody bags, and practical outerwear to ensure she's always ready for adventure.
Confidence and Sophistication: As Hermione matures, her style becomes more sophisticated. She's not afraid to embrace elegant dresses and stylish accessories, showing off her confidence and style evolution.
Making Hermione's Style Your Own
Now, the question is how you can incorporate Hermione's style into your own wardrobe while making it unique and personalized. Here are some tips:
Mix and Match: Experiment with different elements of Hermione's style. Combine timeless pieces with modern fashion to create a look that's uniquely yours.
Express Your Interests: Just like Hermione's statement tees reflect her love for books, use your clothing to express your interests and passions. Wear items that reflect your hobbies and favorite books or movies.
Practicality Matters: Take a page from Hermione's book and prioritize comfort and practicality. Choose footwear and accessories that are functional for your lifestyle.
Confidence is Key: As Hermione's confidence grows, she becomes more stylish. Emulate this by trying new styles and adding elegant pieces to your wardrobe that make you feel confident.
Conclusion: Final Thoughts
Hermione Granger's style is a celebration of intelligence, elegance, practicality, and confidence. By drawing inspiration from her fashion choices, you can create a style that is both timeless and uniquely your own. So, embrace "Hermione's Style" and let your fashion sense reflect your intelligence and individuality.
Thank you for joining us on this journey through the world of "Hermione's Style." We hope you've found inspiration and insights on how to channel your inner Hermione through your fashion choices.
As you've read about Hermione Granger, you must also be interested about Harry Potter's Style: From the Boy Who Lived to a Fashion Icon!
You can write to us at fashionnovationfd@gmail.com We read your emails and publish the potential articles!