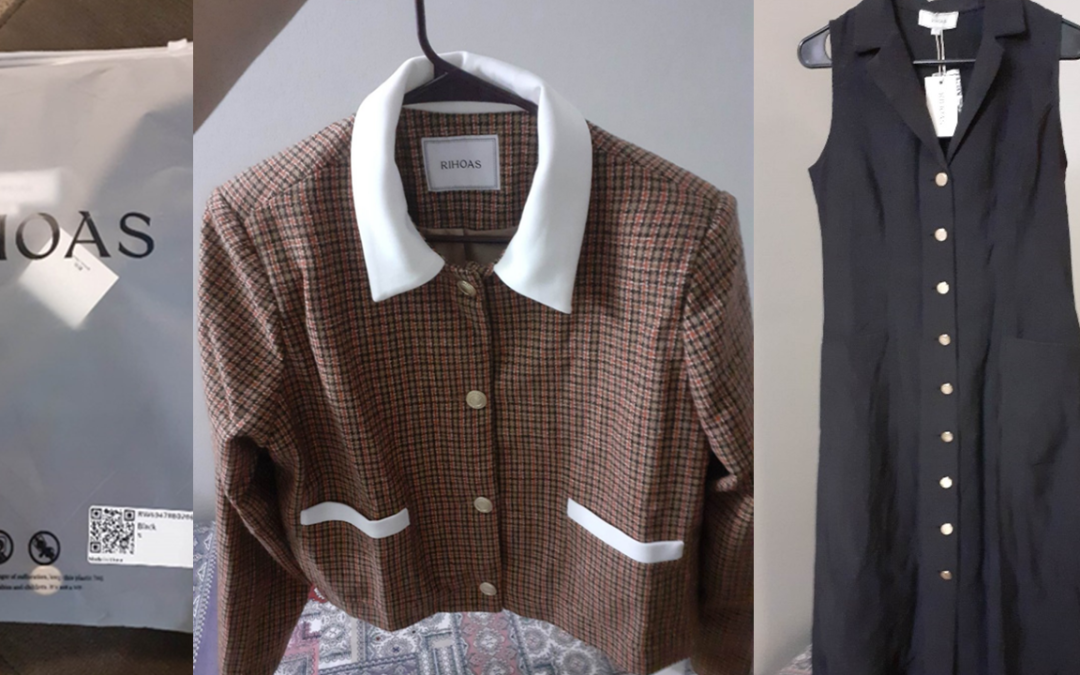 The RIHOAS package arrived!
Fashionnovation recently collaborated with RIHOAS, a beautiful and elegant fashion brand working with women's fashion. Two beautiful products according to our choice got locked on our way and we were waiting merrily to receive them.
Our Fashionnovation US centre was waiting for the package after the order was confirmed. Suddenly a phone call came and the order arrived. Picked up the package and here it goes! Two sustainable, biodegradable, beautiful packages of RIHOAS came to hand. The package made the first impression of the product so high that the product's quality had to be higher than the expectation.
Unpacking!
The unpackaging time came. We unpacked the two dresses one by one. The beautiful black dress and the plaid tweed jacket came to sight.
The Collared Button Up Plaid Tweed Jacket came outside the package like a charm, The soft handfeel of the fabric gave super comfort when worn. The fabric finishing was great, the buttons were beautiful and the pocket was robust.
Look at the plaid texture of the fabric, what a wonderful sight for the plaid lovers.
The beautiful metal buttons were golden and had a sweet design in it. You'll love it by its amazing details.
The collar was beautiful, any woman will find comfort and confidence wearing this piece of art.
The Black V-neck Tunic Midi dress is another beauty. This is simple but gorgeous piece of clothing that any woman will love to wear.
The fabric is super comfortable and breathable. You can wear this at any casual party or meet up. You can also use it for your streetwear and look confident.
You will literally love the buttons used in the dress and how their details. The fabric is immaculate and the colour is superb.
RIHOAS' Customer care
The order reached within time just as RIHOAS committed. The person I was talking to was so cordial and informative! She even guided me all the way and answered all my questions. So, it confirms that you'll get a great customer care experience for sure.
Overall, I love the experience of using RIHOAS products. Their packaging, customer care and most importantly products were topnotch, their works are exemplary. To see our RIHOAS wishlist, you can visit this link.

NB. This is a sponsored post with RIHOAS. All opinions are 100% our own.
To read our other wishlists, you can go here!
To know the best gifts to give your mom, you can check this article here!
To get featured, possible collaborations or publish sponsored posts in our website, please email us at: fashionnovationfd@gmail.com