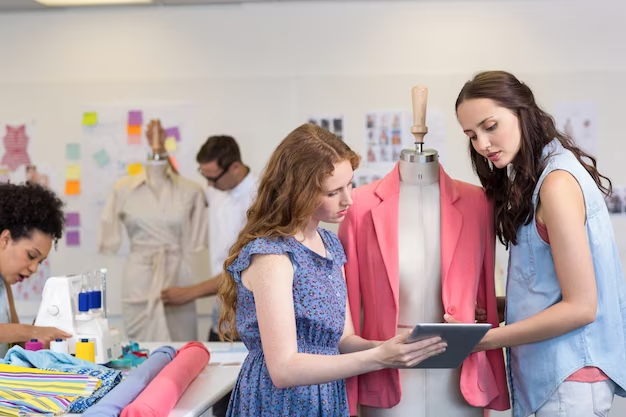 Introduction
What is content marketing in fashion?
Content marketing is emerging as a crucial technique for fashion firms to establish deep connections with their audience in the dynamic world of the fashion industry, where trends change at the speed of a click. Content, previously limited to glossy publications, has found a new home in the digital sphere, giving marketers a platform to engage, inform, and inspire. This paradigm shift necessitates a keen awareness of how to engage the ever-discerning fashion customers.
An effective content marketing strategy demands more than just presenting things; it also calls for storytelling skill that digs into a brand's ethos, converses in the language of its target market, and goes beyond basic aesthetics. In this investigation of "Content Marketing for Fashion Brands: Engaging Your Audience," we dig into the tactics that enable fashion brands to resonate authentically with their clients, fostering not only business transactions but also relationships that survive the test of time.
Understanding Your Target Audience
Developing successful content marketing for fashion brands begins with a detailed understanding of your target audience. Along with determining who they are, this involves investigating the characteristics, preferences, and behaviors of your ideal client. Perform thorough market research to find out more about their age, gender, area, and even psychographic details like their interests and way of life.
You may make your material more appealing to your audience's requirements and desires by understanding their goals and pain spots. With the help of this information, you can better define your Incrementors Content Strategy Support and produce material that connects with and engages your audience on a deeper level, strengthening the bond between your business and its clients.
Crafting Compelling Visuals
In the world of fashion, content marketing heavily relies on aesthetics. To present your items in the best possible light, high-quality photography and videography are imperative. Visual material ought to tell a narrative rather than just display products.
Your audience will be able to see themselves wearing or using your products if you present them in authentic situations and various surroundings. In order to stand out in a crowded fashion market, consistency in visual branding across all of your platforms ensures a cogent and recognizable identity.
Storytelling through Fashion
Storytelling is one of the most effective content marketing strategies. This refers to developing storylines to establish emotional connections with your audience when promoting a fashion business. Share your brand's origin story and guiding principles with customers to let them know what inspires your work and how you got to where you are today. US and German Fashion brands tell great stories for their consumers. Actually every favourite brand has a story.
Give your audience a glimpse behind the scenes of the rigorous craftsmanship and design process that goes into each item to humanize your brand. By helping people identify with your brand's concept and developing a sense of authenticity, storytelling helps build brand loyalty and a stronger emotional connection.
Utilizing Social Media Platforms
Effective SEO Social Media Marketing in North York is essential in the digital age for connecting with your target market when building a fashion business. Adapt your material for the best impact since each platform has different features and audience dynamics. Instagram is the perfect medium for showing your fashion items because of its visual emphasis, while TikTok and other apps provide you the chance to make attention-grabbing, short videos.
Making inspirational fashion boards on Pinterest is a viable option. Regular interaction with your followers with interactive material, like surveys, challenges, and Q&A sessions, not only increases brand awareness but also fosters a sense of community around your products.
Influencer Partnerships
Influencers can be crucial to growing the reach of your business in the world of fashion. Working with fashion influencers whose aesthetics and brand values align with yours might help you reach out to their enthusiastic fan bases and promote your products to them. Authenticity is crucial in this situation; work with influencers who actually like and can sell your things.
The use of influencers can give your business more credibility by giving your items a chance to be seen in authentic settings. As influencers receive access to your high-quality products and your business is exposed to their devoted audience, these relationships frequently result in benefits for both parties.
Educational and How-to Content
Fashion companies may engage their audience by providing useful instructional information, in addition to simply promoting their items. Offering styling advice, videos, and fashion tips establishes your brand's expertise in the industry while also assisting clients in getting the most out of their purchases.
Share your knowledge of the most recent fashion trends, suggestions for how to mix and match different ensembles, and advice for keeping and caring for your products. By assisting your audience in resolving typical fashion-related issues, you develop a sense of trust and credibility that may result in steadfast consumer loyalty.
User-Generated Content Campaigns
By utilizing user-generated content initiatives, you can enable your audience to contribute to the story of your company. Encourage people to use specific hashtags when posting about their interactions with your items on social media. Run innovative engagement-inspiring activities, including styling challenges or photo contests.
You may foster diversity while also capturing the genuine passion of individuals who actually love your products by using real consumers as brand ambassadors. User-generated content acts as potent social proof and can draw in new clients by showing them how others are using and praising your products.
Personalization and Interactive Experiences
Fashion firms may satisfy the demand for personalized experiences among modern consumers by using content marketing. Implement artificial intelligence (AI)-driven product recommendations that make suggestions for products based on client preferences and past purchases. Customers can see how things will look on them before making a purchase thanks to virtual try-on experiences that use augmented reality.
To give a sense of ownership and individuality, also provide customization possibilities, such as picking colors, patterns, or engravings. Customers are more engaged and the whole purchasing experience is improved by these interactive events.
Conclusion
A deliberate fusion of innovation, authenticity, and customer-centricity is essential in the dynamic world of content marketing for fashion firms if you want to keep your audience interested. You may create a sincere relationship with your target audience that goes beyond simple business transactions by deeply comprehending them, creating visually stunning content, and leveraging the art of storytelling. The reach and resonance of your brand are further increased by making use of the enormous potential of social media platforms, influencer alliances, educational content, and user-generated campaigns.
Your material gains a layer of uniqueness by embracing customization and interactive activities, which enhances the purchasing experience. Content marketing acts as a link between the core of your business and your audience's desires in this day and age where fashion is both visual and emotional. By utilizing these tactics, you not only engage but also create a devoted community of fashion aficionados that genuinely identify with your brand's identity and vision.
Nancy R. Somerville

Author BIO –  Nancy R. Somerville is the manager and Head of Growth of Incrementors, a company that assists clients in expanding their online businesses by bringing in more customers, Incrementors is an Award-Winning Digital Marketing Agency lead, and sales. Online marketing solutions that are specifically adapted to the demands of the clients are the Incrementors' area of expertise.
You can read another excellent write-up of this author  where she enlightened us about the most effective digital marketing strategies for fashion e-commerce.
As you're interested about brands, you can also read our exclusive article on all you need to know for fashion brand development! 
Logo Gestalt: How Our Minds Complete the Design Puzzle
To get featured on our website or send articles, please email us at fashionnovationfd@gmail.com

We always read your emails!