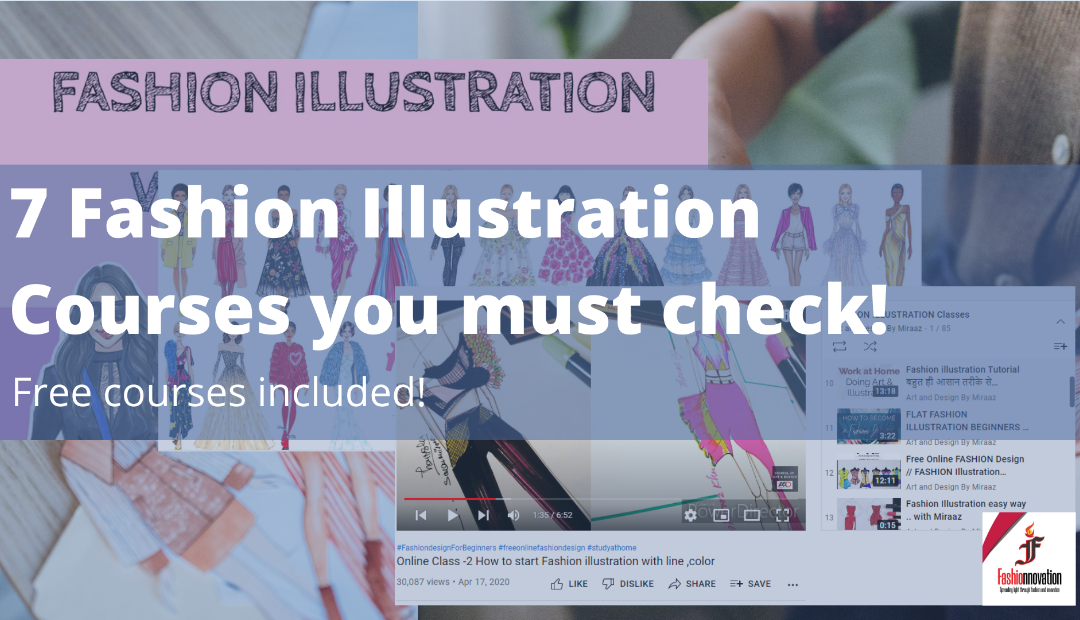 If you are a fashion designer, you must have sought for free fashion illustration courses at least for once. In a fashion illustration course, you learn to draw your ideas on a paper meticulously with proper guidance packed in a cocktail of experience worth of many years. But sometimes it becomes tough to decide which course to choose as there are so many free Fashion illustration courses! In this particular article, we are going to drive you through 7 most effective fashion illustration or digital fashion illustration online courses for beginners that we have found in the web to smoothen your decision making. Not all of them are free but we have selected two free courses as a surprise for you in the end! So, let's begin.
It's a 4 month course with 4.4 ratings to learn the simple techniques of how to draw fashion figures and postures which is created by Wanwisa Rianrungrueng. It costs $29.99.
What you will learn:
It is an ideal course for a beginner to an intermediate.
To draw the fashion figures starting from the basic understanding of the 9 head proportion, body elements from head to toe, movement and posture to fashion poses with garments.
You will get feedback on your sketches.
What this course includes:
→ 2.5 hours on-demand video
→ 3 articles and 7 downloadable resources
→ Full lifetime access
→ Certification of completion
Who are eligible for this course:
˃ anyone who is interested in fashion illustration.
˃ Advance learners also can enroll it.
As you're interested in learning Fashion Illustration, you'll also be excited to check 12 Fashion Illustrations Done by Students Which Will Blow Your Mind!
It's a 6 weeks long online course where one will work with a professional illustrator to develop one's personal style of illustration and created a range of expressive pieces to add to their portfolio. This course costs £500.00. There are 7 different batches for admission and all batches are UK timed.
What you will learn:
Create your own personalized drawing style
Combining structured composition into your designs
Good skill at create artwork using multiple medium including ink, markers, watercolors, crayons and pastels, collage, digital and mixed media
Illustrate the human body, and to draw fashion garments and clothes
Enhance your creativity to create original designs by using original concepts and themes
Using your designs to build up your portfolio
Evaluating your work and others within the group
What this course includes:
→live online lessons, lessons recordings
→access to VLE with course content
→2 weeks online access
→support from the forums
→certificate on completion
Who are eligible for this course:
All levels are welcome for this course. Anyone who is looking for to find expression through another medium or who wants to develop his sketching and illustrating skills is welcomed for this course.
You can also read another of our premium article on Fashion in the 21st century here!
This course is designed by Joanna Baker with all of her favorite methods and techniques for rendering fashion illustration. You will also find her on YouTube.
There are several illustration courses come with different cost. The fashion illustration with marker rendering for beginners course costs $349. In this course one will not only learn to draw basic fashion figure but also learn to sketch a basic fashion runway figures.
What you will learn:
To sketch the basic runway figure, different body shape and size, pose variation
Acquainted with different markers techniques, patterns and popular fashion textures
To sketch faces and rendering different skin tones and hair colors
To sketch hand, feet, ankle easily
Watch 3 full illustration demos
Help to create a good portfolio
What this course includes:
→11 modules with 26 HD videos
→downloadable 16 practice worksheet
→downloadable 7 template guides
→copic marker guide
→shoppable art supply list with links
Who are eligible for this course: anyone can enroll it.
Here a glimpse of some feedback
If you want to read one of our premium case studies on Fast Fashion Vs Slow Fashion, you can go here!
This self-paced online course is designed by professional fashion artist Rongrong DeVoe. This course costs only $497 and it gives lifetime access anywhere you go.
What you will learn:
To draw female bodies.
Be able to color your illustration using Copic markers or any other markers.
To draw face in various ethnicities.
Final editing using any Photoshop to add backgrounds and quotes.
Get tips on how to practice and grow your illustration skills.
What this course includes:
→ Template of various body types and angles, face charts, fashion objects and accessories to practice coloring textures and patterns.
→ 4 hours of video teaching content
→ List of tool which will be used
→ Books and online resources
→ Rongrong's 11 page fashion illustration coloring book and secret list.
Who are eligible for this course:
Whoever been interested in fashion illustration or have some knowledge of drawing, but want to sharpen this skills further are welcome to enroll it. Also if you are a graphic designer or creative who wants to offer fashion illustration as a new service, you should come and join this one.
The art students league of New York designed a complete drawing program to enable the artist as an editorial fashion illustration. It's an online based course, only on every Tuesday at7.00-8.30pm on zoom which will instruct by Chuck Nitzberg. This course costs only $115.
What you will learn:
Formal art concept or over-all
Basic principles of fashion proportion, line, and shape
Various techniques using materials such as charcoal, graphite, gouache, and markers
What this course includes:
→ One or two weekly zoom meetings
→ A impressive toolbox of concepts
→ A live model will be provided at each session to experiment
Who are eligible for this course:
Any person, beginner or advanced, who wants to draw the human figure with cloths are welcome to enroll it.
Fashion Illustration classes by Art and Design by Miraaz:
This is a YouTube channel of Miraaz who is an Indian fashion designer, tribal artist.
Here contents are uploaded in both Hindi and English. You can also buy Fashion Design Course Book online here. You will find the below courses there-
This includes 219 videos from which you can learn about basic fashion studies to designing, drafting, cutting and sewing.
This includes 85 videos to enrich you with illustration. materials, colors knowledge. Also provide a lot of techniques on fashion illustration.
Besides that, there you can find several sewing techniques and method. I can assure you that, it worth. Link is provided below- https://l.facebook.com/l.php?u=https%3A%2F%2Fyoutube.com%2Fchannel%2FUCbXsn4nfz90dFMOdWsFblrw%3Ffbclid%3DIwAR0vfiVkWRWllYPolp-_ymdm2_gkyNH30UuHO4jCaqGSW4B1GbOfiee5rAA&h=AT10PeCEQgbYHRAcwVJ9gt60bwYnomEU0uKOA0-RLszdkSdmXqkhSnUeCqoWzP_EOv7i3t15GxhosIdxSjgcgUej-6hafnRhBZsS7A7NmbB0tG1D3M57zqqC1XYTGFSGIedI9Q
Ignite India Education:
This is India's largest online design education platform. There you will find free online Fashion Illustration course which includes 36 videos. And also a free online Fashion Design course which includes 49 videos. Both are beginner friendly courses.
So, if you are thinking about learning fashion illustration or improving your skills, it is not too late!
Enroll in any of the above suitable courses and become a fashion illustrator.
Ria Debnath                                                                                                    Department of Textile Fashion & Design, Bangladesh University of Textiles (BUTEX)
You can read about our premium article written on Fashion in the 21st Century! 
As you are interested in fashion illustration, you'll love to read this interesting article:
If you want to know about the relationship between Chemistry and fashion, you can read this article!
Risen Brand Jeans: A One Stop Solution for High Quality Jeans