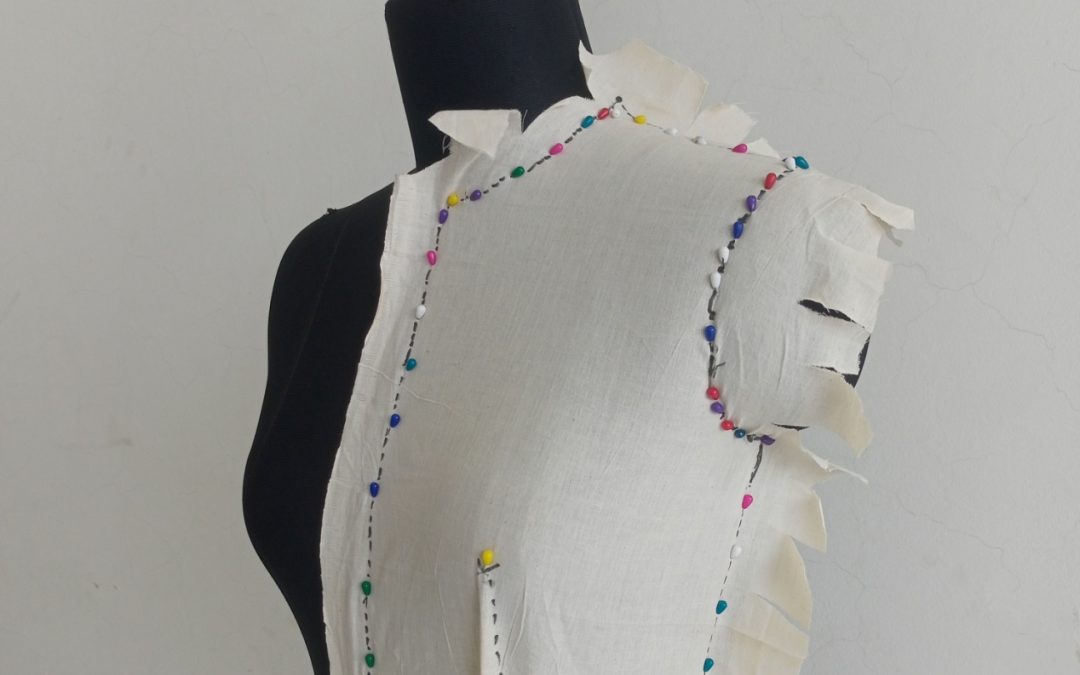 Draping practicals are carried on in Level: 3, Term: 2 of the Department of Textile Fashion and Design (DoTFD) students' academic life. In the practical classes they go through the theoretical ideas and then apply them practically on the dress making forms. Draping of basic bodice is the first lesson that the students experiment on their lab.
Shariful Islam Akash is now a Level: 4, Term: 1 student and he has done several experiments on fashion draping.
In this series, we are going to cover his experiments done in the Fashion Draping lab with necessary pictures for your reference and easy understanding.
Please go through the instructions and see the necessary pictures. We hope that you'll be able to learn a lot as a beginner. Also feel free to give us any suggestion regarding this endeavour. We'll obviously address them and incorporate accordingly.
Working Procedure:
A marking fabric of 24"×18" was taken for draping purpose. 1" allowance is taken in the warp side and a straight line is drawn there which is placed aligned with Center Front line of the model. A pin is placed at Center Front Neck and another one placed in Center Front Waist. Then several pins are placed in the Center Front line.
Then the fabric is draped at High Shoulder Point and a pin was placed there. Then further draping is done and pinned at Shoulder tip. It is further draped around armhole making the fabric body fit with the model. A pin is placed under Armhole.
Then the fabric is draped and pinned following side seam until it meets waist line.
Pins are placed following waist line and a dart point is found alongside the Princess Line. To identify dart point line pins are placed from both sides.
During pinning the points and lines several slashing is done maintaining the distance from the lines. After all pins are placed the lines are connected with marking pen. Thus the draping process is done.
The Fabric is the taken out of the model body and placed in a board. The outlines are corrected. Armhole is increased 1" below and Neck is increased ¼" below from the given line. After giving proper allowance the pattern is ready.
The draping was done very carefully and pins were placed with cautiousness.
Md. Shariful Islam Akash

Department of Textile Fashion and Design, Batch: 45

Bangladesh University of Textiles (BUTEX)
You can also read other articles of this author by going here!
Medieval Period (Part 1)-Sociopolitical System & women's clothing
You can read another draping experiment on variation of cascade by clicking this link.
If you want to partner with us, collaborate, write articles or simply want to contact, feel free to email us at: fashionnovationfd@gmail.com

We always check your emails!