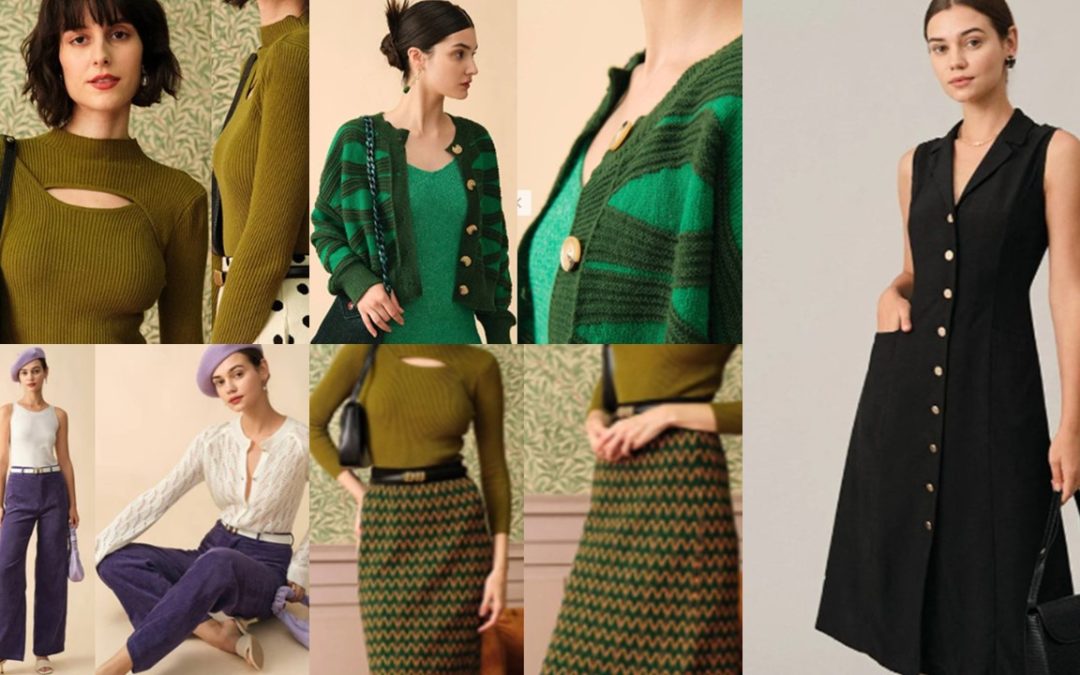 Fashionnovation is always looking for lucrative and trendy fashion brands that can offer the best products for their prices. When RIHOAS reached us, we first checked out their stories, motto and commitment. Our eyes sparked when we dug deep into their collections and all of their mottos aligned with their products which ultimately let us to make a wish list of Top 5 picks from RIHOAS. This unique women's clothing brand inspired by Hollywood movies can really give you the vibe of your favourite film stars. This brand is destined to make you look chic, confident and beautiful like the actresses you always fancy. This is a brand to rise confidence and self-love.
This brand has so many good collections that narrowing down to a wish list of Top 5 picks from RIHOAS is almost a mammoth task.
Beautiful tops
Dresses
Knit tops
Bottoms
Accessories
Swimwear
And Various offers and discounts that you can avail time to time
All in all, the young fashion designers of Hong Kong have so much to offer you! And as usual, we have listed the Top ten picks from RIHOAS from their collection so that you can easily get your eyes on the ones that you should shop immediately.
The Round Neck Wavy Stripe Cardigan
This particular cardigan is our favourite because of the wavy green stripe in it. This will give you an essence of the nature and the green in it will give you a calm and peaceful feeling. For a nature lover, this one is a must!
The Solid Cutout Slim-fit Knit Top
Our next pick from our Top 5 picks from RIHOAS, is the the Solid Cutout Slim-fit Knit Top. We love this top for its unique cut-out between the chest and the neck. This convex shape will surely make you unique in the gathering and your uniqueness may start a conversation with people too. Women look beautiful in knit tops and this unique slit will increase the beauty in you.
The High Waisted Floral Midi Skirt
To match with The Solid Cutout Slim-fit Knit Top mentioned previously, you'll certainly love this beautiful floral midi skirt. This midi skirt is at knee length and has beautiful floral patterns that makes you beautiful and sleek. This is a great skirt to wear with belt in the summer. You'll certainly feel like a Hollywood movie actress walking casually in a love scene while wearing this skirt. Highly recommended!
The Solid High Waisted Straight Corduroy Pants
The Solid High Waisted Straight Corduroy Pants from our Top 5 picks from RIHOAS, is a chic straight pants that will give you Hollywood actress confidence when you will walk along the way. This pants is straight which will show confidence, discipline and emit an essence of your higher self. Moreover, the colour of the pants emits trustworthiness. So, if you are a chic and confident lady who stands for herself should try this corduroy pants.
The Black V-Neck Tunic Midi Dress
The last one from our Top 5 picks from RIHOAS is the Black V-Neck Tunic Midi Dress. This is the classic colour that we all love when we want to look sleek and confident. The V-neck in the dress and the buttons in the tunic gives a great semi-casual look that is destined to impress anyone. You'll love to use it as a casual streetwear and stun anybody gazing eyes on you. This is a midi dress, you'd love to collect in your wardrobe.
This is always tough to choose the best ones and narrow down when all look best! So, it is a mammoth and a daring task to choose a few from so many great ones. Fashionnovation is always there to help you find the TOP from the top ones and present you to your eyes. So that the rest of your work is to just shop them.
So, this is our wish list of Top 5 picks from RIHOAS. We've done the hard job of narrowing down, now it's time for you to shop! To check out these wonderful items, you can directly go to their online store and avail them at lucrative prices here.
NB. This is a sponsored post with RIHOAS. All opinions are 100% our own.
To get featured or publish sponsored posts, please email us at: fashionnovationfd@gmail.com