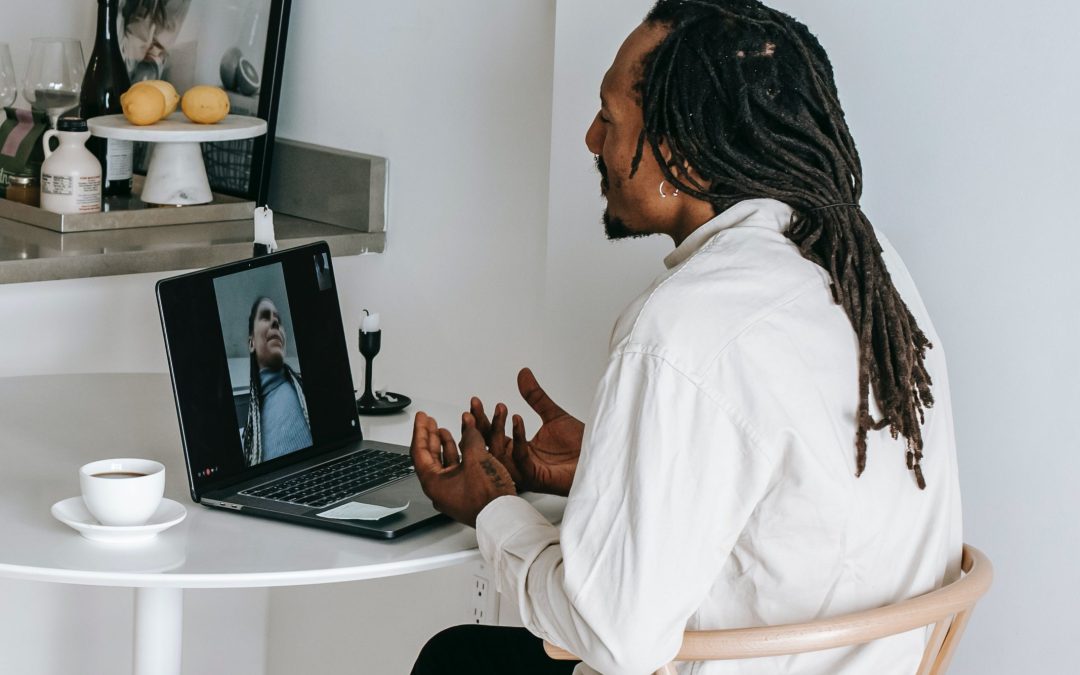 The question is "Can Fashion Designers Work From Home?"
Fashion design necessitates a strong sense of imagination and creativity. Designers cannot function properly without the proper working environment. Fashion designer positions necessitate a great deal of collaboration, discussion, and monitoring. Working in a group is required for everything from fabric selection to pattern design. But still there are a few works which can be done from home with ease eg. Flat sketches, CAD designs, making tech packs, etc. Many have earned a lot by working from home, freelancing, supporting the brands in these segments.
Fashion designers have to participate in meetings. Online meeting can help in working from home. Courtesy: Pexels.
As a result, working from home is tough for them. They must advertise or offer the product to the client once it has been completed. The Covid 19 pandemic, on the other hand, forced everyone to work from home. With such challenges, fashion designers were forced to adopt a "work from home" strategy.
Reasons For Which Work From Home Approach Is Difficult For A Fashion Designer
But it's not impossible!
A fashion designer cannot work from home for a variety of reasons. They must meet with the customer, plan fashion shows, present products to clients, advertise them, and choose the fabric for the task.
All of this is impossible to do from home. You may be required to travel to a specific location for meetings. You may also be required to conduct tours as the firm requires.
As a freelancer, you must also exhibit and sell your products to clients, which is impossible to do with technology. Over a video conference, you can't show your client the fabric you used.
There are plenty other factors to add to the list. The following are some of the most important reasons:
Location
Fashion designer jobs in India and overseas require a suitable working environment because:
Ample room is required: Drawing patterns, cutting fabric, sewing, and monitoring the job all require a lot of space. As a result, in order to do business, fashion design firms require large mansions.
A separate lighting setup is required: These homes also require a lot of lighting and cloth racks for product storage. Such arrangements are not available when working from home.
Even as a freelancer, you'll need a workspace or a workshop. That can't possibly be your residence. You can get a low-cost location, but you'll have to move your firm to another location to grow. All of this is impossible to achieve at home.
Team
As an independent designer, you can create patterns on your own time. Big enterprises and personal brands, on the other hand, employ a larger number of people. The teams' tasks include:
By getting together, these teams lead the work of the companies.
They advise each other on patterns, materials, and a variety of other tasks. Fashion design is entirely dependent on teamwork.
Sewing experts, designers, pattern creators, and marketers make up the team.
Every project has a manager who oversees and monitors the entire process. They also look to see if the designs and patterns are current.
These are not exercises that can be done at home.
Time
Fashion designers have very little free time. They must make numerous sacrifices.
They may have to work longer hours.
Depending on the work pressure, they may need to forgo proper lunch, sleep, and a variety of other activities.
Working from home may make it easier to return to work because they are not required to be in the office. However, it will slow down work because:
You have a work environment in the office, yet you may become sedentary at home.
If you want to be a fashion designer, you'll need to schedule meetings and stick to deadlines.
Video conferencing meetings are not always possible.
You may need to choose models for fashion shows on occasion, but this is tough to do from home. You want to find out what suits the model as styling the model is a fundamental piece of these shows.
You likewise need to check and reverify that norm of creation doesn't fall. Observing over everything is unimaginable from home. At home, you will confront a lot more interruptions, which will dial back your work speed.
Travelling places
A style fashioner is constantly expected to be adaptable in movement. It is so on the grounds that:
They need to go frequently to meet many individuals and clients.
They additionally need to venture out to go to fashion shows.
Buying textures and different supplies likewise should be finished by them for which they need to travel.
These works are unrealistic in the event that you telecommute. As a style fashioner, your occupation isn't just to plan. You additionally need to do a lot of hands on work for the brand you are working for.
Keeping An Eye Over The Trends
Being stylish is a fundamental piece of a design planner. Style originator opportunities generally look for an up-and-comer who knows about the latest thing. This assists the organization with developing quicker, remembering the market requests. To pursue up with the ongoing direction, you really want to:
Peruse different design magazines.
You should likewise visited different design shows to see what's happening.
However you can follow up a magazine or peruse the web from home, you can't visit a design show by sitting at home.
Other than that, you really want to configuration, remembering the patterns. You need to examine it with your group, show them how another plan works, and considerably more. Every one of these isn't possible accurately from your home.
Did the "Work from Home" Policy Work in Lockdown?
Because of the pandemic, telecommute turned into something vital. However remote working had been a piece of corporate life for quite a while, the design business couldn't embrace it completely.
Perhaps a little while could be telecommute, however hands on work is fundamental in this industry. Simultaneously, a few utilized their past collapsing tables to deal with some favored floor.
It was rushed to Select a texture. Over video calls, you can't do those works. This demonstrated again that work from home is challenging for the style world.
But still fashion designers nailed in the CAD designs made from their homes
Though it is quite difficult for designers to work from home, many freelance designers nailed in the CAD designing sectors. They work from home and offer assistance in print repeat designs, flat sketching, pattern designs, Marvelous design, etc.
End Notes
The job of a fashion designer involves a lot of face to face communication. Working from home hinders this aspect. But still fashion designers have found their ways of working from home and advanced the fashion movement.
To know the biggest fashion trends of 21st century, you can visit here! Moreover, if you want to know the future of fashion industry after Covid-19, you can click here!
And if you want to read one of our premium case studies on Fast Fashion Vs Slow Fashion, you can go here!