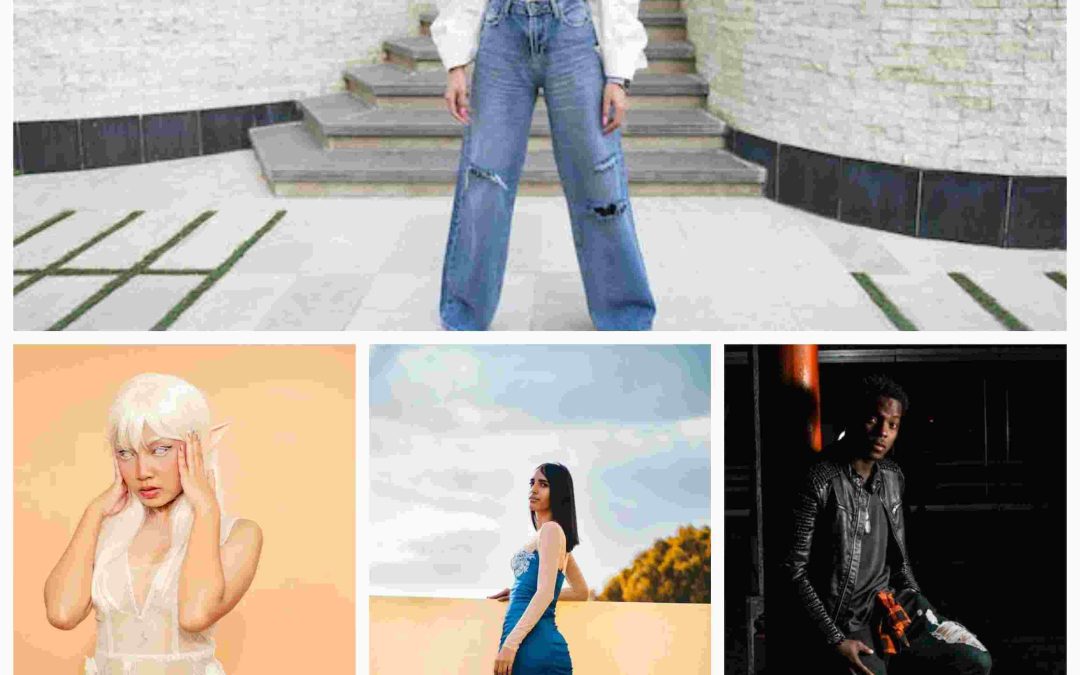 Fashion trends are a hot cake for the designers, consumers and every fashion enthusiasts as these trends indicate and suggest us what to wear to be trendy. Every year we look for fashion trends (fashion designers look for them well affront) like thirsty crows and so we are going to reveal the upcoming 2023 fashion trends so that you can plan ahead and dive deep into the sea of fashion. Let's get started!
Baggy Jeans!
One of the major trend in the denim World in 2023, the jeans are getting baggier and more relaxed. Very very wide baggy jeans is kind of where the trend is headed.
Sheer and See-through dresses!
Another 2023 fashion trend that you might immediately dismiss but might end up liking it overall if you give it a chance is the sheer and see-throughish clothing.
This trend already kind of started last year and maybe a little the year before but we're seeing more and more of it and so what that means is you'll see a lot of sheer tops sheer dresses in 2023. We've seen a lot of celebrities wear sheer dresses what kind of sort of conservative underwear underneath.
Maxi Lengths
Maxi lengths started coming back in 2021. They are again coming back in 2023 and not only the Maxi lengths but also the floor sweeping Maxi lengths. Maxi lengths never go out of style.
Cargo Pants
New cargo pants are coming in all kinds of fabrics and leather. There's all kinds of cargo-esque elements to these pants that are on trend right now.
Bright colors
Bright colors are still trending for 2023. Brightly colored pants and skirts and dresses in any season is very much still on trend. Colors make us happy and feel happier.
We really saw a lot of bright blues in 2022 like orange and even bright pinks and reds and greens. It doesn't have to be head to toe bright colors either it can just be an accent or a more toned down outfit or just the top Stella McCartney beautiful, bright and bold dresses in collection that will definitely continue in 2023.
Leather
Leather is also going to be a big trend for 2023. We've seen it this year and it was also big last year. But your moto jackets, your motorcycle boots, leather pants, leather skirts, leather dresses, or faux leather are really coming for 2023.
Suiting
Tailor pants to trouser pants, tailored Blazers and by tailoring I mean items that you would normally get tailored like a blazer, a vest trouser pants, even shorts with like some pleating in it or something like that so that is still very much a trend.
We really don't see this going anywhere for a while because we think everyone's realized it's an easy way to dress casually and comfortably but still look very put together because of those small tailored details within your outfit.
Belting things
Putting belts on things that don't really require a belt is still a very big trend for 2023. How a belt can define waist or give a waist some shape just adds a little bit of style to your outfit. And obviously they're great for holding your pants up.
Thigh High Splits
Thigh high splits is already seen in some celebrities gowns that they've worn to some kind of awards event. It looks very sexy but not pro vocative or vulgar.
Low Rise
Low rise is going to be even bigger in 2023 than it has been this year. Low-rise trouser pants, low-rise Jeans, low-rise skirts, low-rise everything will trend in 2023.
It kind of means that we're going to go back to the 90s where you just could not find a high-rise pant or would look very out of style in a high-rise pant.
Well, this article is based on the youtube video "2023 FASHION TRENDS that are going to be HUGE!" A big shout out to ANNAREID for her amazing video.
Fashionnovation is always looking forward to help you with your fashion study and getting latest fashion news. We share the latest brand news, fashion affairs, trends with you in our website and also our social media. The upcoming 2023 is going to be a great year for fashion, the trends show that. Let us make it more colorful with our designs and clothings.
As you've read this article, you'll surely be interested to read another of our premium article on the fashion trends of 2022! 
Also if you want to research the past, you can also read our article on the fashion trends of 2021!
We have another article to offer you that every reader of Fashionnovation loves and that's on the biggest trends of fashion in the 21st century!
Ow, another thing! Color forecasting is another important thing to do to go with the flow of trends. We have also covered you the basics of color forecasting here! And if you need some more support for understanding color psychology, you can straight go here!
Click here to know about the 2023-24 Lehenga Trends.
German fashion brands are rocking the trends timelessly, to know more you can read about our top picks.
If you want to partner with us, collaborate, write articles or simply want to contact, feel free to email us at: fashionnovationfd@gmail.com
We always check your emails!