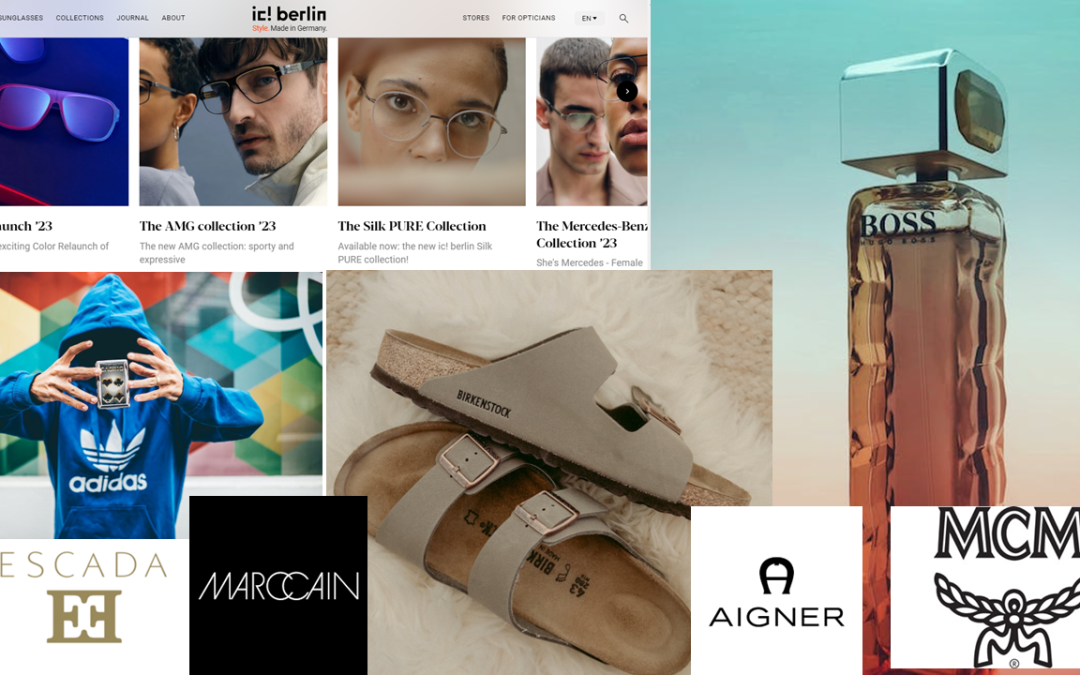 In the world of fashion, Germany has a rich heritage of craftsmanship, design and style that easily make it a hub of gorgeous fashion brands. For their exceptional quality, atomic details, and innovative aesthetics, German fashion brands have earned a well-deserved reputation across the world that every fashionista is bound to explore. In this article, we will delve into the captivating world of premium and gorgeous German fashion brands to explore for their craftsmanship and cutting-edge designs.
1. Ic! Berlin: Elevating Eyewear Excellence
Originally launched in 1996, Ic! Berlin stands at the forefront of modern eyewear innovation, showcasing minimalist designs and unrivaled quality where sustainability and longevity is at its core. Hailing from Berlin, this brand has revolutionized the eyewear industry with its frames, known for their durability, lightness, and flexibility, handcrafted by the experienced masters with exceptional scrupulousness.
Ic! Berlin incorporates high quality materials including titanium, acetate, and plastic which let them experiment with shapes and colors frames designs. A remarkable feature is their screwless hinge technology, ensuring optimum comfort and longevity. Ic! Berlin caters to diverse styles and personalities, offering a wide range of frames from classic aviators to bold geometric shapes. Their acetate frames gained particular popularity which are made in rainbow colors such as green, violet, orange, red, etc., and can be re-polished after years of use. All of the Premium eyewear by Ic! Berlin are scratch- and heat-resistant, valued for durability and can be worn for years with maximum comfort which ensures sustainability.
2. Hugo Boss: Timeless Elegance and Refinement
Discussion of German fashion brands is futile without mentioning Hugo Boss, a fashion brand and fashion house headquartered in Metzingen, Baden-Württemberg, Germany. With a focus on impeccable tailoring, luxurious fabrics, and meticulous details, Hugo Boss continues to set trends. Their extensive range includes clothing, accessories, and fragrances for both men and women.
From perfectly tailored suits to sophisticated evening gowns, Hugo Boss exudes elegance and extraordinary craftsmanship which passes through the test of time.
3. Escada: Exuding Feminine Charm and Glamour
Escada, founded in 1978 in Munich by Margaretha and Wolfgang Ley, has become synonymous with luxury women's fashion for those seeking feminine charm and glamour. The brand is renowned for its vibrant colors, intricate prints, and exquisite detailing.
Their diverse collection comprises clothing, accessories, and fragrances. From stunning dresses and tailored blazers to elegant handbags and statement jewelry, Escada captures the essence of modern femininity, infused with a touch of glamour.
4. Adidas: Style and Performance in Sportswear
Adidas, a global leader in sportswear, does not need much introduction. The iconic three stripes logo has become so much familiar to us that we immediately imagine a wide range of athletic apparel, footwear, and accessories by the mere sight of it.
From running shoes to soccer jerseys, Adidas designs products that enhance performance without compromising on style. Collaborations with renowned designers and celebrities enable Adidas to continuously push boundaries and set trends in the world of sportswear.
5. Birkenstock: Comfortable and Sustainable Footwear
With a history spanning over two centuries, Birkenstock has become a household name for footwear. Founded in 1774 by Johann Adam Birkenstock and headquartered in Neustadt (Wied), Rhineland-Palatinate, Germany this brand focuses on ergonomic design and exceptional comfort. Crafted from natural materials, their sandals and shoes mold to the contours of your feet, providing unmatched support and comfort.
Birkenstock has successfully bridged the gap between functionality and style, embraced by fashion enthusiasts and comfort seekers alike.
6. MCM: Iconic Luxury Accessories
MCM, which is an abbreviated form of Mode Creation Munich, is renowned for its iconic luxury accessories. The brand's distinctive logo pattern and commitment to high-quality craftsmanship have made it a symbol of sophistication and style. MCM's range encompasses luxurious leather handbags, wallets, eyewear, and travel accessories.
Whether you're attending a formal event or looking to elevate your everyday style, MCM's accessories make a striking statement.
7. Aigner: Classic Elegance with a Modern Twist
Aigner, rooted in Munich, embodies classic elegance infused with a modern twist. Renowned for its fine leather goods, including handbags, wallets, and belts, the brand distinguishes itself through its signature "A" logo and meticulous attention to detail. Aigner reflects a timeless aesthetic blended with contemporary design elements. With a focus on craftsmanship and quality materials, their accessories exude refined style and sophistication.
8. Marc Cain: Versatility and Creative Fashion
Celebrating versatility and creativity in design, Marc Cain is a German fashion brand known for its mix of patterns, textures, and colors. The brand offers a wide range of women's clothing that effortlessly blends sophistication with individuality.
From elegant dresses and stylish tops to tailored jackets and comfortable knitwear, Marc Cain's collections cater to diverse tastes and occasions. With an emphasis on quality fabrics and attention to detail, Marc Cain is a go-to brand for fashion-forward women seeking unique and expressive pieces.
In conclusion, Germany boasts a wealth of exceptional fashion brands that cater to various styles and preferences. From Ic! Berlin's contemporary eyewear designs to the timeless elegance of Hugo Boss, the feminine glamour of Escada, the sportswear excellence of Adidas, the comfort and sustainability of Birkenstock, and the luxurious accessories offered by MCM, Aigner, and Marc Cain, these German brands have left an indelible mark on the fashion industry. Exploring their collections allows fashion enthusiasts to discover the essence of German elegance and infuse it into their own personal style.
To know more about various fashion brands, you can explore our Shoutout section.
You can also read our exclusive article on Gucci and learn more about the trends and designers of 21st century fashion.
As you're interested in international brands and trends, you might also find interest in reading our exclusive article on contemporary twist to traditional Indian wear.