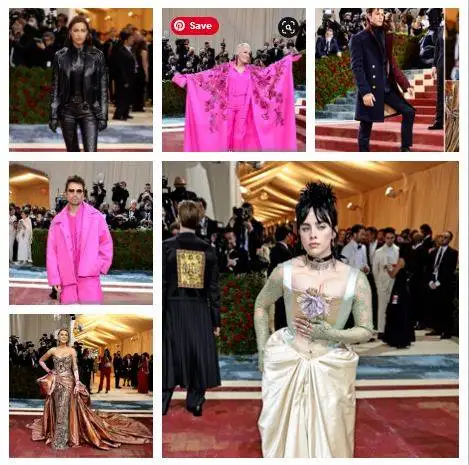 What is the Met Gala?
The Met Gala (or Met Ball), formally known as the Costume Institution Gala or the Costume Institute Benefit, is an annual fundraising gala held for the benefit of the Metropolitan Museum of Art's Costume Institution in New York City. It's the biggest fundraising night in New York City, where designers, models, musicians and Hollywood actors all come on the red carpet to show off their costumes in aid of raising money for the event. Celebrities from various professional spheres, such as fashion, film, television, theatre, music, business, sports, social media and politics are invited to the Met Gala, organized by American fashion magazine "Vogue.
When the Met Gala is held?
The gala (gala means fest) is held annually on the first Monday of May. It marks opening of the Costume Institute's annual fashion exhibit on the Upper East Side of Manhattan. Several of the attendees are depicted on the covers and pages of Vogue. Every year's event celebrates the specific theme of that year's Costume Institute exhibition that sets the tone for the formal attire of the night. Guests who were invited are expected to curate their fashion to match the theme of the exhibit, which is generally haute couture. American journalist Anna Wintour, the editor in chief of Vogue, has chaired or co-chaired the Met Gala since 1995.
.
The history of Met Gala
The Met Gala was established in 1948 by fashion Communicator Eleanor Lambert as a fundraiser for the newly supported Costume Institute to mark the opening of its annual exhibit.
The first gala was a dinner and tickets were just $50 each. Over the first few decades of its existence, the gala was merely one of many annual benefits held for New York charitable institutions.
Similarly, the attendees of the early gala were almost entirely member of New York high class member of the city's fashion industry. From 1948 to 1971, the event was held at venues such as the Waldorf Astoria, Central Park and the Rainbow Room.
From 1948, the Met Gala was occurred consecutively each year, except the year 2000 and 2002.
Met Gala ticket price
Actually Met Gala is the social event of the year and the fashion world version of the Oscars.
If you want to get yourself there, it will cost over $30,000 for an individual ticket. In 1995, the tickets were just $1,000. For going free you have to be chosen by a designer who has a table and whose work will be featured at the event. If you are selected, you will be dressed by that designer, which they feel matches the theme, wearing their design, your ticket in.
What is the price of a table in Met Gala?
Let's move on from individual tickets, there is the option of purchasing a table, which costs approximately $275,000 to $300,000.
However, many celebrities who attend this event don't actually end up paying for their tickets and costumes for the Met Gala. Each celebrities outfit is usually bankrolled by major fashion houses, in exchange for exposure and the goodwill of attending a charitable event.
How to get invited in Met Gala?
1) Donate a huge amount of money
2) Be a celebrity
3) Work at Vogue
4) Perform at the Gala
5) Sponsor the Gala
2021 Met Gala:
Typically the gala is held annually on the first Monday in May, but due to COVID-19 pandemic, the soirée was cancelled last year, and postponed to the September, 2021, and the gala was held on 13th September, 2021, with live red carpet coverage starting at 5:30 p.m. EST, at the Metropolitan Museum of Art in New York.
In 2021, the gala actually presented a two part exhibit, the part one was: "A Lexicon of Fashion," was held on September 18, 2021 and the part two was: "An Anthology of Fashion," was held in 5th May, 2022 (actually held in 2nd May), and we called it 2022 Met Gala.
The event on 13th September was hosted by co-chairs Timothée Chalamet, Billie Eilish, Amanda Gorman, and Naomi Osaka, and honorary chairs Tom Ford, Adam Mosseri, and Anna Wintour. Due to COVID-19 pandemic guidelines, the celebrity-studded red carpet was a smaller affair than usual, with invites stipulating a dress code inspired by American Independence.
2022 Met Gala:
The 2020 Met gala was off because of the COVID-19 pandemic. The Gala resumed in 2021, however was held in September rather than in May that year. In 2022, the Met Gala returned to holding its traditional May ceremony, and it was held in 2nd May, 2022.
In 2022 Met Gala "Blake Lively, Billie Eilish, Sebastian Stan, Stormzy, Frederick Robertsson, Megan Thee Stallion, Glenn Close, Gigi Hadid, Irina Shayk, Olivia Rodrigo, Jordon Roth, Shawn Mendes, Evan Mock" were the winners.
2022 Met Gala guest list:
Blake Lively,
Billie Eilish,
Sebastian Stan,
Stormzy,
Frederick Robertsson,
Megan Thee Stallion,
Glenn Close,
Gigi Hadid,
Irina Shayk,
Olivia Rodrigo,
Jordon Roth,
Shawn Mendes,
Evan Mock
╚► *a) Vogue is a famous fashion magazine
(Link: https://www.vogue.co.uk/?international )
╚► Sources: https://www.nytimes.com/
https://www.vogue.co.uk/?international
https://en.wikipedia.org/wiki/Main_Page
https://www.yahoo.com/lifestyle/
Image Source: https://tenpiecesofeight.com/
Yaishik Dutta
BUTEX-47
TFD
To know the biggest fashion trends of 21st century, you can visit here! Moreover, if you want to know the future of fashion industry after Covid-19, you can click here!
You can check our Free and Paid Fashion Illustration Courses!
To know the link between Chemistry and Fashion, you go go here!
And if you want to read one of our premium case studies on Fast Fashion Vs Slow Fashion, you can go here!