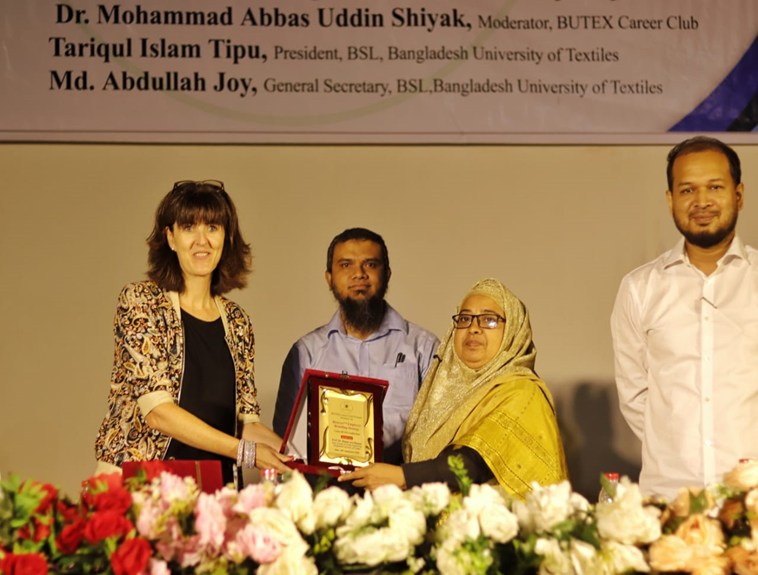 BUTEX Career Club (BCC) has successfully organized a seminar titled 'Recover™ Employer Branding Strategy' on Wednesday, September 20th in the BUTEX Auditorium. In the age of circularity, waste management and turning the waste into treasure is a pressing trend, we need to embark on. Recover™ , a recycled cotton fibre producer company that transforms textile waste into our textile raw materials and uses it to create high-quality recycled cotton fibre, aims to achieve "circular fashion for all" by promoting sustainable practices focusing on environmental footprint. As a web-media partner, Fashionnovation is pleased to update you with the event arranged by BUTEX Career Club.
The event hosted the honorable chief guest Prof Dr. Shah Alimuzzaman, Vice-Chancellor, BUTEX. Furthermore, the event had some special guests Dr. Hosne Ara Begum, Dean of the Textile Engineering Department at BUTEX; Dr. Abbas Uddin Shiyak, The Moderator of BUTEX Career Club; and Dr. Md Reajul Islam, Head of the Yarn Engineering Department & President of the BUTEX Teachers' Association
The main speakers at this seminar included Helena Domenech, Vice President of Recover™ People and Talent Division; Towhid Hasan, Regional Head of Technical Support in the Recover™ Business Development Division; Md Muyeed Hasan, Country Sales Manager in the Recover™ Business Development Division; Mariya Parvin, Quality Assurance Manager in Recover™; and Arafat Al Islam Khan, Country People and Talent Manager.
The seminar began with a presentation by Md. Muyeed Hasan, where he shared comprehensive information about their company. Helena Domenech and Arafat Al Islam Khan then highlighted the opportunities and benefits that Recover™ offers to BUTEX students. Towhid Hasan shared his experiences on working with the company including providing valuable insights to the students. Lastly, Mariya Parvin advised the fresh graduates on career choices and professionalism. The presentation concluded with a question-and-answer session for the students.
As a special guest, Dr. Abbas Uddin Shiyak expressed his appreciation for Recover's factory visit and emphasized the significance of recycling in Bangladesh. Another guest, Dr. Md. Reajul Islam, discussed how Recover™'s initiative would create new opportunities for BUTEX students and emphasized the importance of recycling.
Answering a journalist's question, BUTEX Career Club President Tanvir Ahamed Fahad mentioned that 'Recover is conducting a seminar in Bangladesh for the first time among global companies.
He also mentioned that Recover™ would provide job opportunities and internships for the 44th and 45th batches of fresh graduates and highlighted the significant prospects for those interested in sustainability or circular fashion.'
Notably, Recover™ is a global company that manufactures recycled cotton fibers from textile waste. Its journey began in 1947 with the motto "Circular Fashion for All".
It's pertinent to include that, Fashionnovation is a web-media partner of BUTEX Career Club and Fashionnovation team and its Founder and President Kazi Farhan Hossain Purba wish the best for all the endeavors taken by the club.
To know more about BUTEX Career Club, you can read one of our exclusive articles about them: BUTEX Career Club: A Club Running With Style to Achieve Excellence
You can also read our other articles on:
Textile Recycling: Reducing Waste and Promoting Circular Economy
Fashion from Waste or The Rise of Phoenix?
For submitting articles, queries and collaboration, feel free to knock us at fashionnovationfd@gmail.com