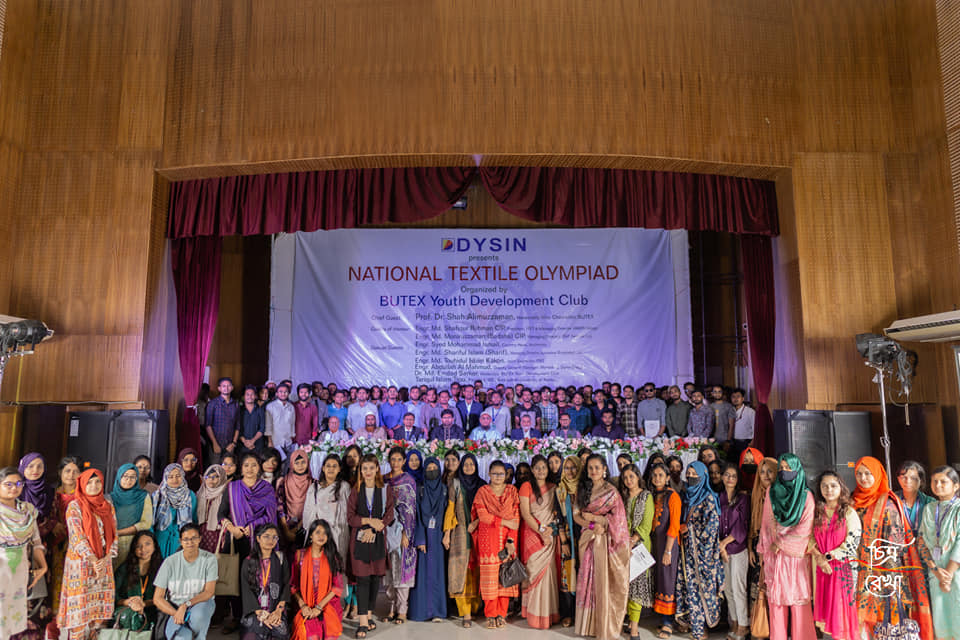 BUTEX Youth Development Club (BYDC) organized the Grand Finale of their flagship event- "National Textile Olympiad" on 29 July at BUTEX premises. 700 students from 33 institutes offering textile engineering courses participated in the grand event. The motto of the event was to inspire the students to enhance their textile knowledge and empower, engage, encourage and develop the youth to build a brighter future.
The Chief Guest of the event was Prof. Dr. Shah Alimuzzaman Belal, Vice Chancellor of BUTEX, Engr. Shafiqur Rahman, President of ITET, Engr. Md. Moniruzzaman Badsha, MD of FIAT Fashion Ltd, Engr. Syed Mohammad Ismail, Country Head, Archroma were the Guest of Honour.
Engr. MD. Shariful Islam (Sharif), MD of Auxicolor Bangladesh Ltd. Engr. Touhidul Islam Kakon, Joint Secretary of ITET, Engr. Abdullah Al Mahmud, DGM of Dysin Group, Dr. Md. Emdad Sarkar, Moderator, BYDC, Md. Toriqul Islam Tipu, Md. Abdullah Joy, President and Secretary of Bangladesh Student League, BUTEX were the special guests. This event was presided by Abir Mohammad Sadi, President of the BUTEX Youth Development Club.
The grand event was enlightened by the presence of the students from 32 Campuses which were: BUTEX, BUTEX Affiliated 8 Colleges : CTEC, PTEC, TECN, SKTEC, SARTEC, DWMTEC, SHTEC, SRTEC; KUET, DUET, MBSTU, JUST, NITER, BUFT, AUST, PaU, CAHS, STEC, BHETI, ISTT, ISU, HEC, SEU, WUB, NUB, GUB, CU, UU, DIU, PCIU, BUBT. The participation from these institutions numbered a boasting 700.
There were 𝟱 𝗦𝗲𝗴𝗺𝗲𝗻𝘁𝘀 𝗼𝗳 "𝗡𝗮𝘁𝗶𝗼𝗻𝗮𝗹 𝗧𝗲𝘅𝘁𝗶𝗹𝗲 𝗢𝗹𝘆𝗺𝗽𝗶𝗮𝗱" and they were:
𝟭) 𝗖𝗼𝗻𝘁𝗲𝗻𝘁 𝗪𝗿𝗶𝘁𝗶𝗻𝗴 𝗖𝗼𝗺𝗽𝗲𝘁𝗶𝘁𝗶𝗼𝗻
𝟮) 𝗧𝗲𝘅𝘁𝗶𝗹𝗲 𝗤𝘂𝗶𝘇 𝗖𝗼𝗺𝗽𝗲𝘁𝗶𝘁𝗶𝗼𝗻
𝟯) 𝗔𝗿𝘁 𝗖𝗼𝗻𝘁𝗲𝘀𝘁: 𝗗𝗿𝗮𝘄𝗶𝗻𝗴 & 𝗗𝗶𝗴𝗶𝘁𝗮𝗹 𝗔𝗿𝘁
𝟰) 𝗣𝗵𝗼𝘁𝗼𝗴𝗿𝗮𝗽𝗵𝘆 𝗖𝗼𝗻𝘁𝗲𝗻𝘁: 𝗠𝗼𝗯𝗶𝗹𝗲 & 𝗖𝗮𝗺𝗲𝗿𝗮 𝗣𝗵𝗼𝘁𝗼𝗴𝗿𝗮𝗽𝗵𝘆
𝟱) 𝗩𝗶𝗱𝗲𝗼 𝗣𝗿𝗲𝘀𝗲𝗻𝘁𝗮𝘁𝗶𝗼𝗻 𝗖𝗼𝗺𝗽𝗲𝘁𝗶𝘁𝗶𝗼𝗻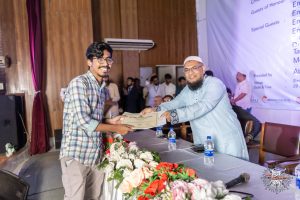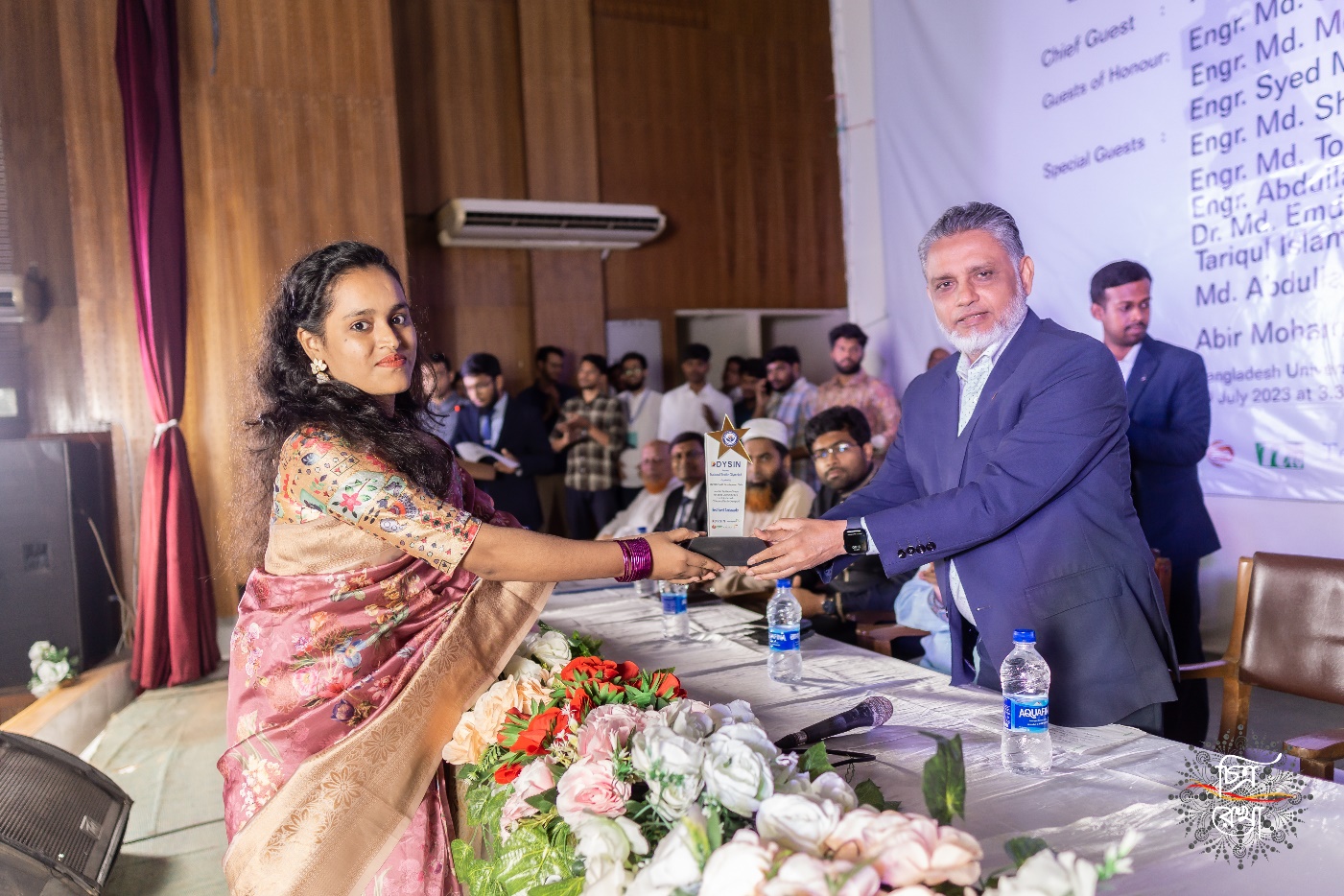 Figure 4: The best campus ambassadors were awarded with crests. Photo courtesy: Chitro Rekha.
The Top 3 of "Article Writing Competition" and "Textile Quiz Competition" were awarded with prize money of 5000, 3000 and 2000 Taka respectively along with Certificates. And the Top 3 of Art Contest, Photography Contest and Video Presentation Competition will be given Prize Money of 3000, 2000 and 1000 Taka respectively along with Certificates.
Club President Abir said, "BUTEX Youth Development Club also competed in the Youth Career Institute's Club Leadership Summit and placed in the top 10 among 300 clubs in Bangladesh." He also said, "We, Butex Youth Development Club, are always committed to work for the future development of BUTEX and textile sector."
All the guests expressed their optimism with this event and wished to see this even broader in the upcoming years.
Fashionnovation takes pride in being the Media Partner and our Founder and President Kazi Farhan Hossain Purba for being the Judge of Article Writing segment of the event.

For any query, suggestions or article submission, please contact us through this email: fashionnovationfd@gmail.com
You can also read these similar articles:
The Journey of Fashionnovation
The inception of Fashioknowledge Fiesta
Fashionnovation's Wall Magazine Ronger Jadukor