Trend analysis is a part and parcel of fashion design studies. As Fashionnovation talks about fashion and is going to be a repository of fashion related knowledge, we have taken the responsibility to gather and present such knowledge as much as possible. That is why we have various Trend analysis related articles, have trend analysis of 2021, 2022. and 2023. Also have the overall trends and features of the 21st century fashion which is the best article of this kind in Google.
So, to fill up the gaps, we have also included the fashion trends of 2019.
Things that we'll cover!
The 12 colour palette
Basic colour palette!
Silhouette forecast of 2019
Makeup trend 2019
Haircut and hair colour trend 2019
Accessories forecast 2019
Besides these, you will also get to know some basics about fashion trends, trend analysis, colour forecasting, etc.
What's trend analysis?
Trend analysis is the act of collecting information and attempting to figure out a pattern from the accumulated information. In fashion trend analysis has a lot to do with the seasons, past history of dress-ups, demography, etc.
Trend analysis in fashion industry?
The fashion forecasting process includes the basic steps of understanding the state of the target customers, collecting information about the available products, preparing information, determining trends, and choosing appropriate products for the company and target customer. Color and style are two of the important objects to forecast for most buyers and merchandisers.
For getting free trend reports online, the sources which make it easy to stay informed and watch the forecasting process unfold:
Trend Tablet,
Peclers Paris,
Nelly Rodi Lab
Fashion Snoops
WGSN and F-TREND are other important companies for online fashion forecasting.
Top 12 colour palette
Colour palette? Why color palettes are used?
A color palette, in the Digital world, refers to the full range of colors that can be displayed on a device screen or other interface, or in paints or illustrations.
Who chooses the Colour palette?
The Pantone Color Institute's 2019 "Color of the Year" is called Living Coral (16-1546). The Institute choses and declares a color of the year every year. This is one of the most influential committees which consists of a group of 10 people whose names are kept secret. They meet in Europe twice a year — May and November — at the invitation of Pantone, a company based in Carlstadt, N.J., whose only business is color.
Interestingly, according to NPD, a market research group, this company has a hand in the color of about half of all garments sold in the U.S.
Top 12 colour palette for spring/summer 2019!
Top 12 colour palette for Autumn/winter 2019!
Basic colour palette!
The Basic scheme contains both primary colors (red, yellow, blue) and secondary colors (orange,
green, and purple) from the color wheel. All these colors are bright, bold, and contrast to each other, that make the Basic scheme so eye-catching. Meanings: Strong, solid, clear, simple, direct.
Silhouette forecast of 2019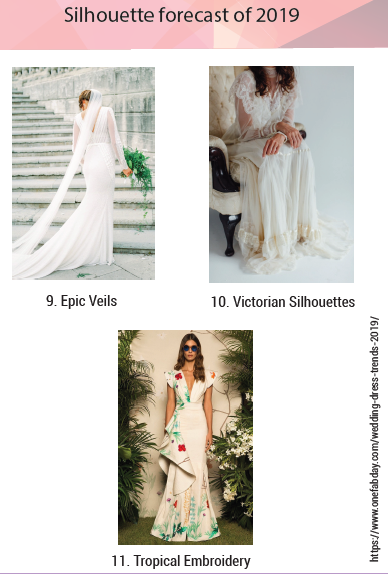 Make up trend 2019
Hair cut trend 2019
Hair colour trend 2019
Click here to know about the 2023-24 Lehenga Trends.
If you want to know about fusion fashion trends of 2024, you can go here!
If you want to read the trendiest fashion pieces you can sew in this winter, you can read this exclusive article!