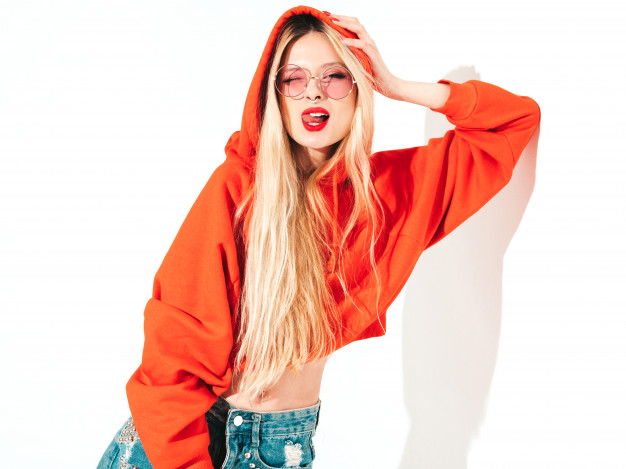 Fashion has incredibly morphed through different eras of time to 21st century clothing and fashion. Have we ever thought about how much fashion has changed over the course of time? The way we choose clothing in the 21st century is completely different from the ancient times. 21st century outfits all revolve around making fashion statements. All the changes in the nineteenth and twentieth century are the reason behind the fashion in the 21st century and has impacted the lives of many people in different ways.
Let's look back from the fashion in the 21st century: Before the 1960's
Before the 1960's, long dresses, suits, hats and corsets were the main trend and fashion for the people of that time. But in the 1960's the youth showed that they were powerful by changing the fashion trend to a much changed fashion environment which was known as the hippie clothing.
The clothes of this century were much looser and dressing was in the form of a bit more revealing clothing, like mini-skirts. The clothes had a more casual look. There was the unisex look at the time of this century. The ragged jeans were also very popular.
What about the 1800's, a foundation for the clothing in the 21st century?
During the mid 1800's, all outfits worn by women consisted of different materials to complete a whole wardrobe. The dresses that woman wore, composed of pantalettes, chemise, corset and a petticoat. Pantalettes were long clothing worn under everything else.
Pantalettes were long underpants with a frill at the bottom of each leg made from linen or silk, designed with tucks and flounces to give a layered look toward the feet. A chemise was the main one piece undergarment worn over the pantalettes. A corset would be worn over the chemise; it is a tightly fitting undergarment which extends from below the chest to the hips. It is used to add lift to the bust area and to add shape to the waist and hips. This cloth was used to highlight the shape of the waist to draw attention away from the natural shape of the waist line. It caused health problems for some women due to tightness of the corset. The corset is pulled together so tightly that it would squeeze the inner organs of a woman's body together causing digestive problems and may cause reproductive problems; also it could even result in death. According to the weather outside and the season would determine the necessity of wearing a petticoat. But gloves and bonnets were always worn in those days. During the early 1800's, long beautiful hair with possible curls was often seen.
From the nineteenth to the twentieth century, moving close to the 21st century fashion!  Fashion eras of the 21st century!
From the nineteenth century to the twentieth century fashion changed rapidly. In the 1990's to 2000, there has been very beautiful clothes. In the beginning of the twentieth century, corsets returned again into action by breaking its bad name with a relaxing feel on women. In the 1920's, the boyish look of women became a fashion. And women were known as "flappers" due to their short haircuts; like the "bob", short skirts, and straight dresses.
Women started going outside for working and being more involved with sports during that time. Designers started to experiment with new hemlines by making them long in the back but shorter in the front. Since the 20th century till now Jeans is counted as a fashionable dress code. However we have shifted from the former modes of fashion and clothings, we haven't let them go. Instead we are getting back to them and fusing them with the latest trends.
21st century clothing
What is 21st century fashion?
21st century fashion is the styles accepted by a large population of specific regions of the world from 2001 to 2100. Between the time period of 2001 to 2100, all the fashion trends, 21st century outfits, 21st century clothing, make the 21st century fashion. As we are just standing on 2023, we are literally only finished the one fifth of this century.
To understand the 21st century fashion history, we also need to understand the past. At this time of the twenty-first century, fashion has moved a few steps back. Clothing in the 21st century is quite amusing because designers are not only focusing on the next big thing but are also focusing on bringing the past into the future.
Teenagers are still wearing miniskirts with leggings (skin tight multicolor tights) as a major style; worn underneath the skirt along with a dashing blouse.
Many women now wear jeans and t-shirts for more comfort. Even sarees are now seen to wear different new looks. The new millennium fashion is the remix of the 60's, 70's and the 80's mixed together to make the 2000's a major fashion statement. Fashion, a small word, with so many different characteristics. We now wear whatever and whenever we want. This is fashion in today's world. The twentieth century changed the outlook of women by giving them the right to fight for what they wished to wear. Fashion in the nineteenth and twentieth centuries has impacted the normal lives of every people. Fashion has changed but still, it is the same in many ways. We should not underestimate ancient fashion or style because what goes out, wears out will always come back as future trends.
The characteristics of fashion in the 21st century
21st century fashion is characterized by its versatility and agility. This century is shaped with technology, the fourth industrial revolution (Industrial Revolution 4.0),  The touch of connectivity, automation, advanced analytics and manufacturing technology have transformed the global business for years. The touch of fast fashion and its triumph over slow fashion has shaped the fashion trends and made them agile as never before, making a products' lifespan less than a week! So, the 21st century outfits are brief, short-lived, trendy and agile.
21st century people are fast!
21st century people are fast as the century's demand. They are always in a hurry to cope with the situations, they are adaptive and they adopt the newest trends with lightning fast decision where the previous century people were quite slow to grab a new fashion. With the advent of technology and social media like facebook, twitter, instagram, pinterest, the 21st century people are always hungry for new trends and to adopt those trends.
21st century outfits
The 21st century outfits fit the temperament of the 21st century people. The outfits are brief, most of the time simple and modern.
The first decade-2000s Fashion
2000s fashion means fashion from 2001 to 2009. 2000s fashion is characterized by its global mash up where fusion of vintage styles, global and ethnic clothing like boho were the top trends. Fashions of numerous music-based subcultures like Hip-hop fashions, generally was the most popular among young people of all sexes, followed by the retro inspired indie look in the later part of the decade.
Boho, short for bohemian is categorized by its loose, flowy, patterned, and beaded clothing. The 2000s boho style dominated as a trend as celebrated like Sienna Miller, Mary-Kate and Ashley Olsen, Britney Spears, Nicole Richie, and Beyoncé adopted it with grace.
25 and older aged men and women adopted a dressy casual style which was popular throughout the decade. Globalization influenced the fusion of Middle Eastern and Asian dress into mainstream European, American, and Australasian fashion. Furthermore, eco-friendly and ethical clothing, such as recycled fashions and fake fur, were prominent in the decade.
In the early 2000s, many mid and late 1990s fashions remained alive around the globe, while simultaneously introducing newer trends. The later years of the decade saw a large-scale revival of clothing designs primarily from the 1960s, 1970s, and 1980s.
In the 2000s, the early to its mid, the rise of fast fashion was a major event. The transition from slow fashion to fast fashion was marked by this decade. H&M, Forever 21, Zara, Target, etc. brands. Many US fashion brands played a monumental role in shaping this decade.
The second decade-2010s Fashion
2010s fashion starts from 2010 and ends in 2019. This decade has certain characteristics of its own.
This decade was defined by some iconic catalysts like hipster fashion, athleisure, a revival of austerity-era period pieces and alternative fashions, swag-inspired outfits, 1980s-style neon streetwear, and grunge and skater fashions influenced unisex 1990s-style elements. The later years of the decade were influenced by the social media influencers promoting fast fashion brands on Pinterest and Instagram.
Popular global fashion brands  Adidas, Balenciaga, Burberry, Christian Dior, Fashion Nova, Forever 21, Gucci, H&M, Hugo Boss, Louis Vuitton, Marks and Spencer, Nike, Uniqlo, Under Armour, etc. shaped this decade with their ingenious collections.
The Key Features of 2010s Women's Fashion were: Crop tops, High-waisted bottoms, Maxi dresses and skirts, Bold prints, including floral, animal, and geometric patterns on clothing and accessories, Athleisure wear, Chunky sneakers, Jumpsuits and rompers, Chokers, Bold colors, Vintage-inspired accessories.
The 2010s women's fashion was characterized by a mix of retro and modern elements, bold prints and colors, and a focus on comfort and individuality.
The third decade-2020s Fashion
2020s fashion started from 2020 and will end in 2029. We are in this decade and so far this decade is too much exciting. Hit by and recovering from the Covid-19, this decade has a lot of salient characteristics.
TikTok and instagram are major marketing tools for many brands in this decade.
Marketing strategies involve third parties, particularly influencers and celebrities.
Sustainability has become a buzzword in this decade and all the major brands are now committed to offer products made sustainably. Both environmental and social sustainability are on the focus as consumers are now too much concerned about sustainably sourced and made products. 
Thus reducing, reusing, recycling, and circular economy have become extremely crucial for the brands' business. Moreover, second hand clothing are becoming more and more popular day by day.
You can read our 2021, 2022 and the fashion trends of 2023 through these links.
21st century fashion designers
As you have come to know about 21st century fashion, you should also know some titbits about the 21st century fashion designers, the true catalysts who are bringing the changes.
She is the sister of Gianni Versace, the founder of the Italian fashion brand Versace. After Gianni's murder in 1997, Donatella inherited the brand and took it the next level and now, she is the chief creative officer of the company. Some of her works include supporting Elton John's AIDS Foundation. She is the first woman to win the GQ Designer of the Year award.
Born on October 14, 1939, Ralph Lauren has emerged as a fashion designer and businessman. He is the founder of the Ralph Lauren Corporation, a fashion brand named after himself, a global multibillion-dollar fashion enterprise.
At the beginning of his career, he was a salesman for a tie company. Then he went on to launch his own fashion lines and established himself as a popular name in the fashion industry within years. This American fashion designer is also well known for his humanitarian activities.
Born on April 9, 1963, Marc Jacobs is an American fashion designer. As the head designer for his own fashion label, Marc Jacobs, he has produced and gifted his followers with a lot of modern dresses. Formerly his brand name was Marc by Marc Jacobs, a diffusion line, which was produced for approximately 15 years before it was discontinued after 2015.
Marc Jacobs was the creative director of the French design house Louis Vuitton from 1997 to 2014.
Time magazine placed his name as the one of the 100 most influential people in the world in
"2010 Time 100" list.
Giorgio Armani
Born on July 11, 1934 in Piacenza, Italy, Giorgio Armani's signature style is relaxed yet luxurious ready-to-wear and elegant, intricately beaded evening wear.
Armani intended to become a doctor but left medical school to pursue a career in fashion.
Karan began her career as an assistant designer with Anne Klein.
In 1988, Karan, recognizing the need for a more affordable fashion line, launched Donna Karan New York (DKNY) which is a women's line.
Alexander McQueen
Lee Alexander McQueen, born in 1969, a visionary artisan in the realm of fashion, left an indelible mark on the industry that still reverberates today. With a career that soared from humble beginnings to the pinnacles of haute couture, McQueen's designs were an exquisite blend of dark romanticism and avant-garde innovation. His runway shows were legendary spectacles, each a mesmerizing journey into the depths of his creative mind. Tragically departing the world too soon in 2010, McQueen's legacy as a daring couturier and fearless provocateur endures, inspiring generations of designers to push boundaries and challenge conventions.
Karl Lagerfeld
Karl Lagerfeld, a name that resonates through the glamorous corridors of fashion history, was a creative force unlike any other. With his signature high-collared white shirts, fingerless gloves, and iconic powdered ponytail, Lagerfeld stood as an indomitable figure at the helm of haute couture for decades. His genius knew no bounds, whether he was designing exquisite collections for Chanel, Fendi, or his own eponymous brand. Beyond the runway, Lagerfeld's sharp wit and unmistakable style made him a legend whose influence forever shaped the fashion in the 21st century.
Sabera Momtaz,

Department of English Notre Dame University Bangladesh (NDUB)
To know the biggest fashion trends of 21st century, you can visit here! Moreover, if you want to know the future of fashion industry after Covid-19, you can click here!
And if you want to read one of our premium case studies on Fast Fashion Vs Slow Fashion, you can go here!
If you're interested in high quality rep shoes and want a guide about it, you can go here!
You can also read our interesting and well researched article on: Architecture Fabric: The New Use of Textiles as A Building Material
21st century fashion trends
Fashion trends are always evolving and so do the 21st century fashion trends. This century is so much versatile with technology, globalization and fast pacing people that the trends have become even short lived than ever and 21st century outfits are getting more dramatic and evolving. Moreover, fast fashion has become a norm of the 21st century and thus there is a huge fast paced transitions due to the speed of fast fashion vs slow fashion. All in all, 21st century fashion is faster than the 20th century fashion and ever evolving, shaped with US-China trade war, Covid-19, Russia-Ukraine war, etc.
To cover the 21st century fashion and 21st century fashion trends, we have produced many different articles, and we also share WGSN Trend reports in our words so that you become aware of the trends and have a historical record of the past and future trends.
You can read our premium articles on Met Gala the fashion trends of 2019, 2021, 2022 and the fashion trends of 2023! By studying these three years' trends consecutively, you'll have a broader perspective on how trend is moving in the 21st century fashion.